In 2016, Marriott acquired Starwood creating world's largest hotel company. Today, Marriott International has 19 brands and 6,000 properties worldwide. For a hospitality brand that operates at scale, it was crucial to create a platform that enables them to discover moments and engage with customers quickly.
Marriott launched M-Live a marketing platform designed to provide real-time content and generating social engagement with travelers. To deliver this real-time guest experience the brand partnered with Silicon Valley start-up HYP3R to geofence its existing properties across the world.
Geofencing technology uses GPS or markers to create a virtual boundary around a particular area. If an individual's accounts are public, the brand can track the conversation on all popular social media platforms. The technology makes it possible to monitor conversations by locations and not by hashtags or mentions. The platform geotags social content and puts it up on proprietary UI which notifies the team at hotel location to take appropriate action.
"We know that the next-generation of travellers are digitally savvy, constantly connected, and are looking for a more personalised one-to-one relationship with our portfolio of brands."

– Osama Hirzalla, Vice President Brand Marketing & E-commerce, Europe, Marriott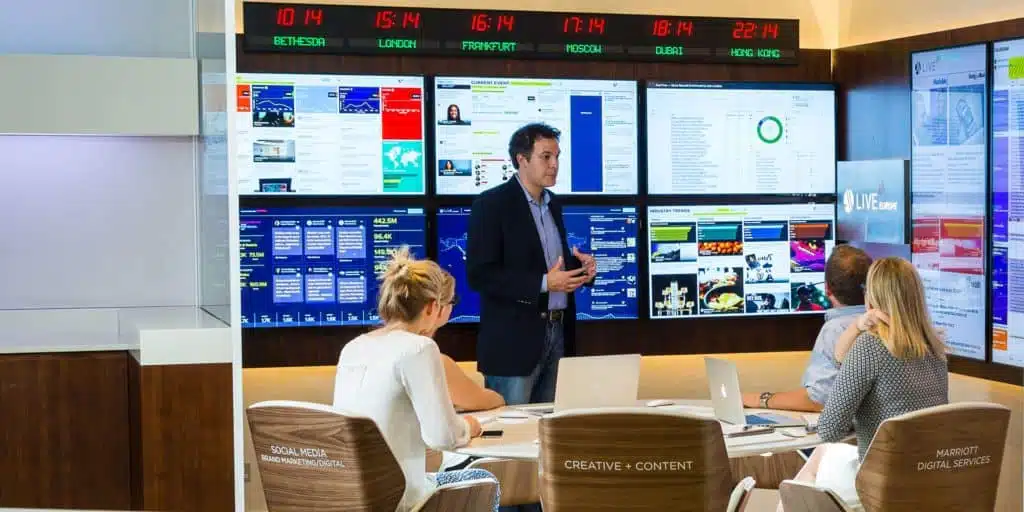 Marriott has set-up four M Live Command Centers across the world starting with its first center in Bethesda in July 2015. M-Live command centers identify trends, performance and monitor brand reputation across all social platforms. M-Live has also enabled the brand to identify opportunities that are distinct for each Marriott's brands in the location.
For instance, M-Live identified a couple posting about their engagement at the Gaylord Opryland in Nashville on social media. The M-live team quickly flagged the post, engaging the Gaylord brand and property teams to celebrate the couple with a champagne toast. The result was original content posted by the couple thanking the property for their hospitality.
"We did not get this far by saying, 'I want to build a media company. First and foremost, [the goal] is to engage consumers. Get them to associate with our brands, build lifetime value with them. Content's a great way to do that."

– David Beebe, Vice President, Global Creative, Marriott
Marriott's M-Live Command Center was awarded Gold and Silver Creative Data Lions at the Cannes International Festival of Creativity in the categories of Social Data and Use of Real-time Data, respectively.