In a landscape where stories of marketing firms making their mark on the Indian Stock Market have become tales of yesteryears, we find an unexpected plot twist when RK Swamy announced its IPO.
Picture this: no significant agency IPOs for a long stretch, until CyberMedia Research and Service stepped into the limelight, gathering a neat Rs 14.04 crores last September. The bigger intrigue? Titans of the advertising realm like Madison, AdFactors, and Rediffusion remain offstage, unlisted.
Against this backdrop, the announcement from RK Swamy feels almost audacious. One of India's marketing behemoths choosing to dive into the public waters, in a time when funds are more elusive than ever? It's a brave move, a testament to their belief in reinvention.
RK Swamy aims to raise Rs 215 crore to finance a digital video production facility, customer experience centers, telephonic centers, and IT expansion. The company reported a revenue of Rs 293 crore and a Rs 31 crore profit for 2023.
What excites us is not merely the fact that RK Swamy is the country's largest integrated marketing firm but that its public issue may offer other independent agencies an alternative to being acquired by international networks.
RK Swamy: Humble Beginnings
The roots of this illustrious agency stretch back to 1973 in Chennai (then Madras), founded by the legendary adman RK Swamy. He wasn't just an entrepreneur but a pioneer, previously spearheading the southern operations of the ad agency HTA.
HTA (Hindustan Thomson Associates), later rebranded as JWT (now known as Wunderman Thompson), served as the nurturing soil from which numerous agencies in India sprouted. Among them, Chaithra Advertising (acquired by Leo Burnett) emerged, co-founded by Walter Saldhana, a former JWT collaborator.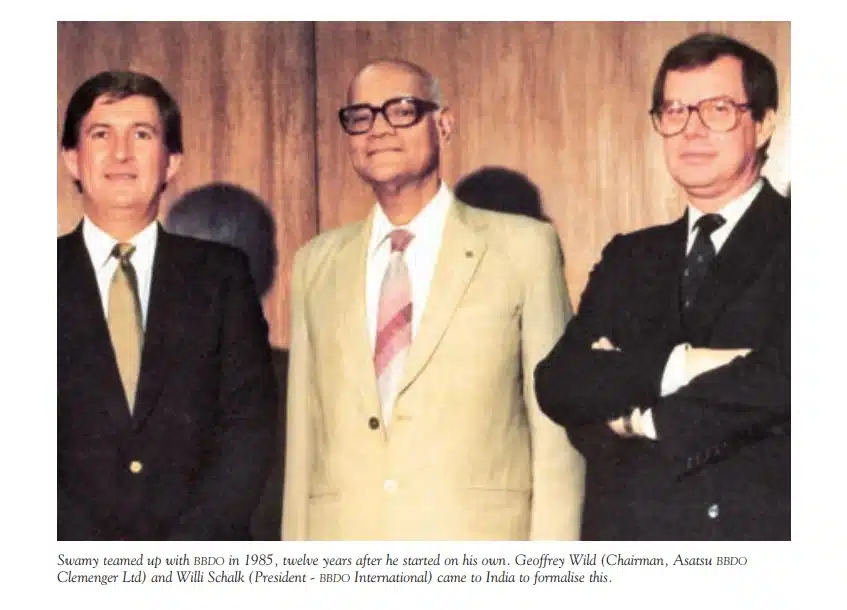 In 1985, RK Swamy partnered with BBDO, selling them a substantial portion of their advertising business. However, they reacquired this stake in 2009. The alliance concluded 37 years later, in 2022, when RK Swamy purchased the remaining significant minority stake held by BBDO.
RK Swamy concluded their partnership to consolidate their diverse offerings under the RK Swamy Hansa Group umbrella. While BBDO primarily focused on advertising, providing services such as media and creative, RK Swamy had expanded over the past three decades as an integrated marketing services provider.
In an era that saw agencies like Chaithra, Ulka, and Trikaya getting acquired, RK Swamy survived to tell the tale while continuing to remain independent.
How RK Swamy Views the Marketing Landscape in India?
RK Swamy's DHRP stretches to a sprawling 468 pages. But tucked within its vastness, the real treasures are the insights drawn from CRISIL's August 2023 deep dive into India's marketing services landscape.
A report, mind you, that RK Swamy exclusively championed and funded. Why are we diving into this dense tome? Because there's a story in that data, a narrative that holds lessons and implications for the entire industry.
Let's turn the pages and uncover what waits within.
India has also seen marketing and advertising spending rise significantly in tandem with the substantial revenue growth of companies.
Over the last five cycles, Indian firms have consistently devoted between 3.1% and 3.6% of their revenue to marketing. This isn't a mere fluke.
Look deeper, and you'll see that as these companies' revenues have surged with a CAGR of 9.5% (for 748 shining stars on the stock market), their marketing investments have kept pace, scaling up dramatically.
Now, imagine the trajectory. With the economy humming along, internet wires sparking more connections, and consumers becoming an even mightier force, the narrative for the next act seems clear. By 2028, we can anticipate that marketing expenditures will hover around 3.5-3.7% of the operating revenue.
And that slice of the pie dedicated to advertising? It's poised to settle between 1.2% and 1.4%. The dance between growth and investment continues, and it's a waltz to watch.
Indian firms are investing less than their Western and Middle Eastern counterparts but are edging out Southeast Asia.
Look across the horizon at the Middle East, the US, and Europe. Companies there have their marketing engines roaring at a different pace than in India. But that's not the entire story. An intriguing pattern emerges when we line up these countries and juxtapose their marketing spending against India's.

Indian companies, in their wisdom or caution, are outspending their Southeast Asian counterparts. Yet, they're still trailing behind the businesses in the US, Europe, and the Middle East.
Why does this matter? Because this isn't a story of playing catch-up, it's an opportunity narrative. This disparity in marketing spending uncovers an expansive canvas in India, untapped and brimming with potential. The canvas hints at the under-penetration of marketing and advertising endeavors in India.
It's not a shortfall; it's headroom. And for those daring enough to see it, there's a lot of sky to paint.
Government contributes around 2.5% of the entire canvas of advertising spending in India.
The Union government didn't whisper; they broadcasted, spending a staggering ₹ 37,234 million on advertising over the last half-decade up to December 9, 2022.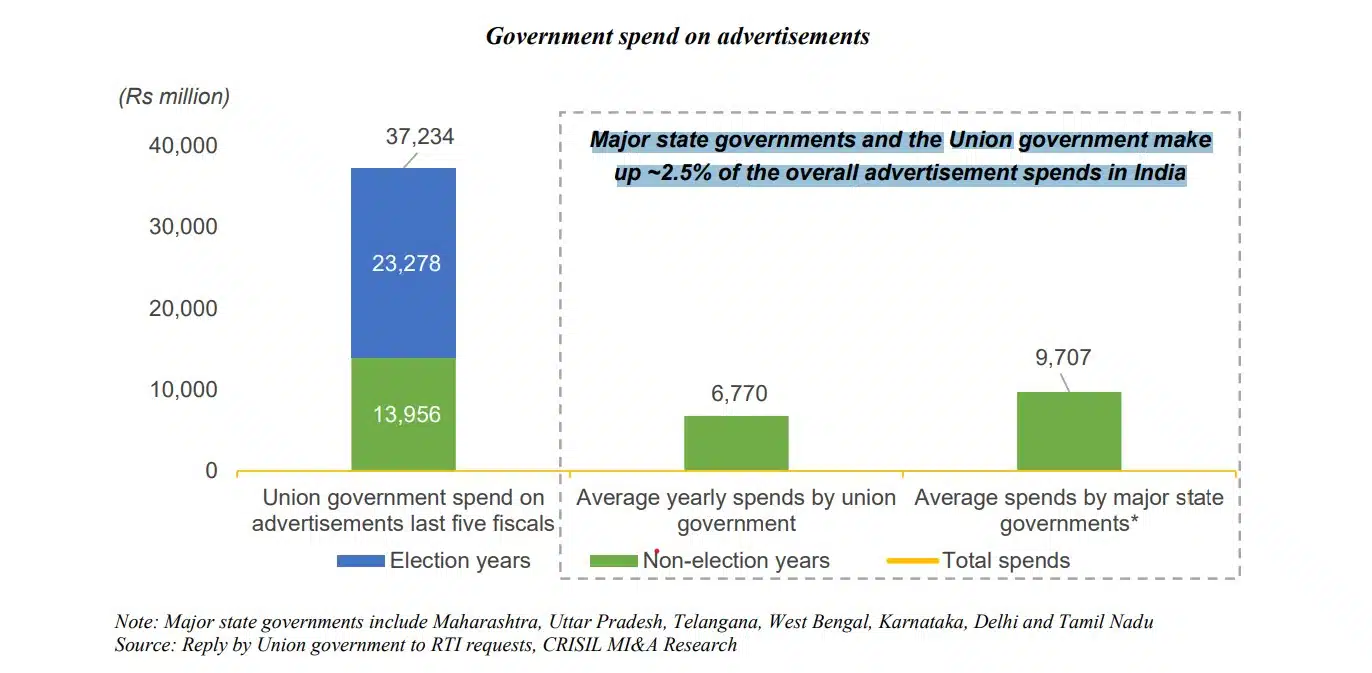 This isn't some backstage rumor; it's right there, out in the open, thanks to an RTI response by the Information and Broadcasting Minister, Anurag Thakur, in the hallowed halls of the Rajya Sabha.
When you stack this against the big spending of Indian corporates, it might seem a tad modest. But don't be fooled. In the grand theatre of marketing, the government isn't just an extra.
They're a major player, a critical patron in the vibrant market of messaging and influence.
In India, the tapestry of marketing services isn't just growing; it's burgeoning, poised for a double-digit dance.
Dive into India's marketing landscape between 2019 and 2023, and you'll spot a robust CAGR of 5.6%, culminating in a ₹1,936 billion worth in FY23. Much of this vigor springs from corporates, whose revenues, especially among 740 listed entities, swelled at 8.9% CAGR. Understandably, bigger revenues meant bigger marketing adventures, with ads leading the parade.
By 2028, we anticipate this market to balloon to about ₹3,500-3,700 billion. Digital ads, paired with investments in Customer Data Analytics & MarTech, are the leading chariots of this growth. And yes, advertising will dance to a double-digit growth rhythm.
In the realm of research and data analytics, the top titans hold the lion's share, but there's a dynamic playground of mid to small players too. Meanwhile, the vast expanse of integrated marketing is a tapestry of media giants, celeb management entities, production powerhouses, and more.
However, zoom in, and over 80%, is dominated by the behemoths: Dentsu, Havas IPG, RK Swamy, and WPP, among others. Quite the marketing mosaic, wouldn't you say?
In India's grand marketing symphony, three sectors hit the high notes: BFSI, FMCG, and consumer retail.
Dive into the numbers, and you'll find a fascinating pattern. The BFSI realm isn't just crunching numbers; it's leading the marketing parade, allocating a whopping 11-14% of its net interest income over the past five cycles. As we brace for a banking credit surge, this narrative might amplify, aiming for a 13-15% mark in the next chapters.


Elsewhere, giants like media, the nimble-footed FMCG sector, retail magnates, and the digital behemoths of e-commerce are generously feeding their marketing engines, painting a vibrant canvas. Yet, a subtle hiccup: FY22's marketing vigor somewhat dimmed compared to FY18, a lingering shadow of the pandemic's grip.
But here's the shimmering horizon: with most sectors gearing up, radiating optimism, and forecasting double-digit leaps, expect marketing fireworks by FY28—quite the saga in the making.
What does the future of integrated marketing services in India look like?
India's integrated communications landscape is poised to surge, targeting a 14-16% CAGR from 2023 to 2028.
Tracing its trajectory, the sector has already showcased a vibrant climb, growing at about 5.6% CAGR from Rs 700 billion in 2019 to Rs 871 billion in 2023.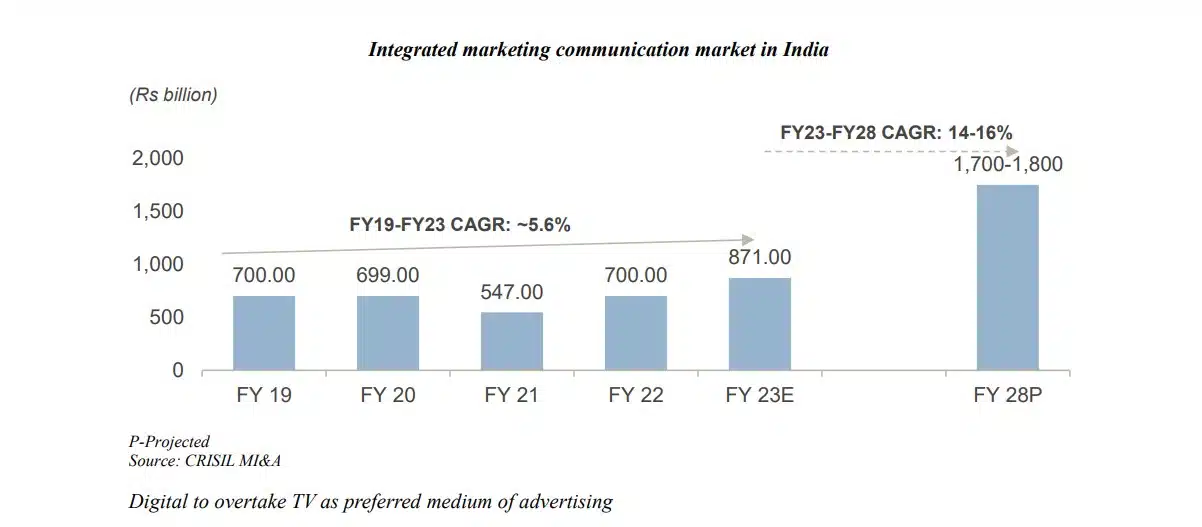 Interestingly, this pace outstripped the global 4.4% growth in the same window, signaling India's robust bounce back from the clutches of Covid-19. Come fiscal 2023, the TV spotlight will shine the brightest, cornering 38% of advertising revenue. But don't get too cozy; the digital realm is hot on its heels at 33%. Fast forward to 2028, and the tables turn.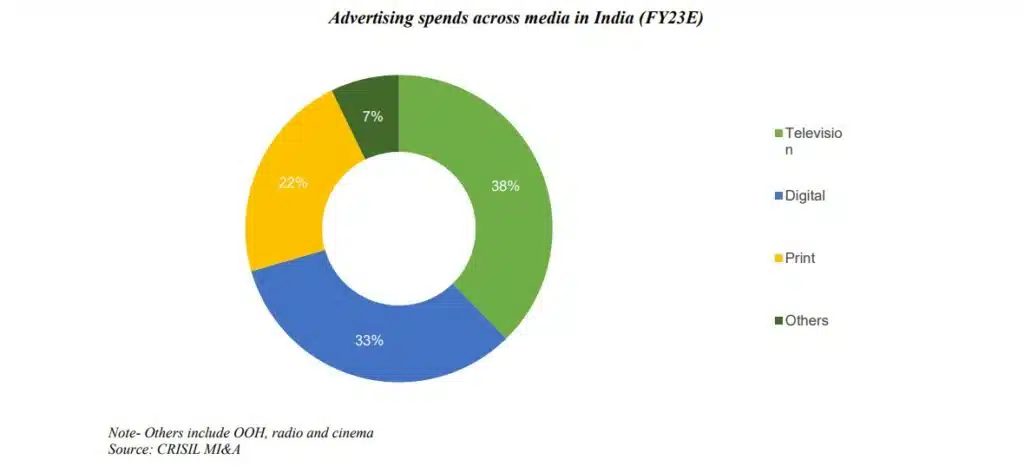 Digital advertising is set to seize center stage, gobbling up over half the ad spend pie, while TV might see its slice shrink to 22-27%. And what's fueling this shift?
The ever-evolving consumer behavior, paired with more accessible digital infrastructure. As screens get smarter, the ad world takes note.
FMCG stands tall as the advertising giant.
While sectors like consumer durables, e-commerce, and retail collectively pull the weight in the Integrated Marketing Communication realm, claiming a ~57% stake, FMCG holds the crown with a ~30% market share. Close behind are e-commerce and consumer goods, driving their narratives with strategic spending.
Unravel the numbers of FY23: FMCG is set to channel a whopping ₹250-270 billion into advertising. E-commerce isn't far behind, earmarking around Rs 150-170 billion, with consumer goods rallying at ₹50-70 billion. The surge? It's the interplay of a rebounding economy and consumers' thirst to spend.
Peering into 2028, e-commerce is poised to expand its footprint, soaring from an 18% ad share to a staggering 27%. And it's not alone. The likes of consumer durables, telecom, and education are gearing up, too, fueled by tech advances like 5G and the burgeoning online learning trend.
India's digital Integrated Marketing Communication has been on a meteoric rise, and it's not slowing down.
From a commendable ₹117 billion in 2019, it soared to ₹286 billion by 2023, ticking at a ~25% CAGR. This isn't just growth; it's a testament to businesses pivoting fervently toward digital advertising.


The horizon? It's shimmering with innovation and potential. As tech accelerates and more enterprises weave digital into their DNA, the canvas for advertisers gets richer. By the close of 2028, envision the industry boasting a valuation hovering around ₹850-900 billion. For marketers, it's akin to standing at the edge of vast digital plains, ready for exploration.
Social media reigns supreme in the digital ad space, seizing the lion's share of 29-31%.
Platforms like Facebook, Instagram, and Twitter aren't just popular; they're essential, offering both vast reach and laser-focused advertising. Hot on its heels is online video, accounting for 27-29%, spotlighting the magnetic pull of video content across platforms like YouTube and Moj.


And let's not sideline paid search, holding its ground with a solid 22-24%, underscoring the timeless clout of search engine advertising. Together, they paint a dynamic digital canvas, gravitating towards platforms ripe for engagement and surgical targeting.
Two players dominate the scene in India's digital advertising realm for fiscal 2023. FMCG takes the crown, staking out ~38% of the pie, while e-commerce isn't too far behind, claiming ~20%.
Together, they command a massive 50%+ of the digital advertising spend, underscoring their formidable presence in the digital marketing arena.
What all of this means for Independent Agencies?
RK Swamy isn't just navigating the waters of the agency world; they've charted out a roadmap. This is a guide for indie agencies aiming to diversify and retain their independence, without succumbing to the allure of global agency conglomerates.
Their crafted portfolio? It's vast, spanning integrated communications, martech, customer insights, and research. This holistic approach not only meets client demands but also balances the inevitable uncertainties of the agency's cosmos.
For the skeptics, the agency terrain is no barren land. If on track, RK Swamy might just clock in a staggering 515-560 crores in revenue by 2028.
Pondering an investment in their IPO? While I can't steer that ship for you, I'm currently diving into LS Digital and Odigma's DHRP scrolls, eager to unearth some valuable insights.