Digital Marketing related searches on Google has skyrocketed in India in the past decade. The searches for the keyword and similar terms look like a hockey stick in the line chart on Google Trends. So it doesn't come as a surprise that demand for digital marketing courses and digital marketing institutes that provide them has increased exponentially.
Digital ad spending in India is expected to cross $21 billion by 2028, as per estimates from RedSeer. Most analysts believe that India's digital ad spending will surpass television by the end of 2023. In the fiscal year 2022, online advertising revenues from Google and Meta totaled around ₹41,000 crores. The need for digital marketing resources is going to grow even faster with the rising influx of digital advertising spending.
But if you are hearing the term digital marketing for the first time, what does it mean?
What is Digital Marketing?
Digital marketing also referred to as online marketing, involves promoting your brand to potential customers on the internet using the internet and using other forms of digital communications. This includes using digital channels like email marketing, social media marketing, search engine marketing (SEM), search engine optimization (SEO), video advertising, web-based advertising, text, multimedia messages, etc.
Essentially, any form of communication that involves digital channels comes under the preview of digital marketing.
Why Choose Digital Marketing as a Career?
Digital marketing has been one of the most in-demand jobs in India for the last few years, based on data collected by LinkedIn's Economic Graph. For instance, four of the 25 fastest-growing job titles on LinkedIn in 2022 required candidates to be skilled in digital marketing.
But even with such high demand, organizations are struggling to find the right hires for digital marketing roles. Digital marketing skills are in serious demand worldwide, and with the increase in digital ad spending, the digital skill gap is only set to widen further.
Nearly 1.6 million new digital marketing jobs were posted online on LinkedIn in 2021, an increase of 70% compared to 2021. Experienced candidates have also benefited from the increased demand; in 2021, over 31% of LinkedIn members globally stated that they changed jobs, including 618,000 marketers.
Besides the demand for the role, even the compensation for digital marketing professionals has seen an uptick, with the average salaries ranging from ₹3,00,000 to ₹12,00,000 per year. The compensation varies depending on the nature of the digital marketing role. If you're looking for a breakdown of salaries by experience and function, we recommend you read our in-depth article on digital marketing salaries in India. The talent shortage has ensured organizations are ready to pay big bucks for the right talent.
But even if you disregard the demand for digital marketing talent and the compensation, a career in digital marketing is rewarding in terms of satisfaction because, in most cases, your work directly impacts an organization's bottom line.
How to learn Digital Marketing?
If you're someone who wants to get started with a career in digital marketing, you'll have to either learn digital marketing on your own or pursue a formal degree, course, or certification. If you decide to master digital marketing on your own through a combination of self-study, learning by doing, and side projects, the learning curve will be steeper, but it is potentially more rewarding.
It is the path I took and advocate for; nevertheless, a formal course provides structure. If you have no idea where to start, a digital marketing course or certification will be beneficial. If you're interested in learning digital marketing on your own, I've detailed some of the basic principles I've learned over the years in a comprehensive article on how to learn digital marketing in India.
But if you decide to pursue a formal digital marketing degree, course, or certification, here is something you should keep in mind.
Digital marketing as a field is constantly in flux; while basics remain the same, the channels and techniques keep changing. This means what you're learning today might become irrelevant in the next three years.
The assignments, capstone projects, and simulations used to teach digital marketing techniques do not adequately represent how things operate in the real world. This means that you will learn many core principles on the job.
Together, these factors indicate that the ownership of building a great digital marketing career also lies with you as much as it resides with the digital marketing certification or digital marketing course provider.
Best Digital Marketing Courses in India
It isn't easy to rank digital marketing certifications considering the plethora of choices that are now available in India.
The list of top digital marketing institutes that we have compiled evaluates institutes basis the courses offered, faculty, course curriculum, placement assistance, and other related parameters. By no means is this list exhaustive, but if you're someone who is looking to get started, this list of digital marketing institutes will be beneficial for you.
1. Simplilearn
Simplilearn is among the largest certification providers in India. They started their operations in 2010 and have since trained over two million students. Simplilearn's flagship digital marketing program provides 12-month access to the latest tools, real-world projects, and expert sessions with digital marketing specialists. The certification is also aligned with global certifications offered by industry leaders like Facebook's Blueprint, Google, and OCMP.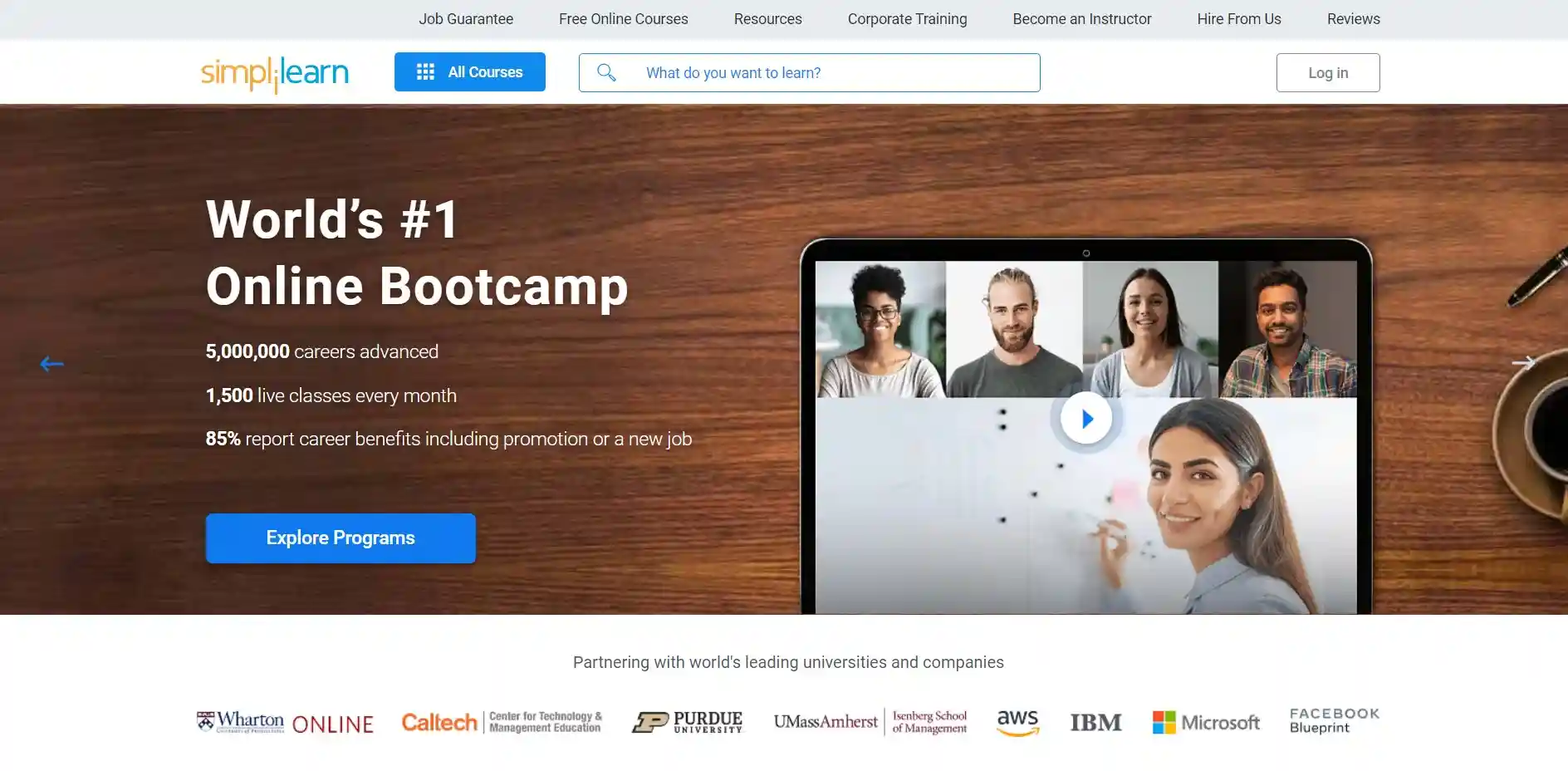 Simplilearn's digital marketing program prepares you for OCMP certification, which is highly beneficial if you aspire to work abroad. Considering it is globally recognized as the gold standard for digital marketing certification. Simplilearn has also made its course curriculum much better over the years with its acquisition of Market Motive, considered among the best digital marketing certification providers in the United States.
Courses Offered:
Digital Marketing Specialist by Simplilearn: Simplilearn's core program trains you in domains like SEO, social media, pay-per-click, conversion optimization, digital analytics, content, mobile, & email marketing. The program also offers job assistance along with pro-membership to the IIMJobs portal. The price of the program is ₹64,200, including taxes.
Professional Certificate Program In Digital Marketing: The certificate program is offered in collaboration with Purdue University. Students who enroll in the programs can also transfer the credits earned from the program to pursue Purdue's Online MS in Communication program. The program is offered at the price of ₹ 1,17,700, including taxes.
2. Indian School Business
Indian School of Business has been ranked among the best business schools in the world. ISB's 12-month flagship digital marketing and analytics program can be pursued online. This program is, however, designed for mid-level managers, so if you're just getting started, we don't recommend that you look at this program.
Courses Offered:
Digital Marketing and Analytics: ISB's 12-month self-paced online program covers basic and advanced digital marketing techniques. The course is delivered via recorded videos, case studies, quizzes, discussion boards, and simulations. The course is priced at ₹1,08,000, excluding GST.
3. UpGrad
UpGrad, despite being a late entrant in the certification space, has made a name for itself. The platform has partnered with MICA for its flagship digital marketing program. UpGrad claims that nearly 12,000 learners have pursued its flagship program. The training provider also previously had a program in collaboration with the University of Cambridge, which has been discontinued.
Courses Offered:
Advanced Certificate in Digital Marketing and Communication: The 12-month flagship program offered in collaboration with MICA provides two tracks and four specializations to choose from. UpGrad has also partnered with 300+ hiring partners to provide placement assistance. The cost for the base program, including one specialization, comes to ₹1,09,045, including taxes.
4. Digital Vidhya
Digital Vidhya is among the oldest digital marketing certification providers in India. The training providers' flagship program provides instructor-led training, unlike blended programs offered by other digital marketing institutes in India. The program provides guaranteed internships with NASSCOM along with assistance to prepare for job interviews.
Courses Offered:
Certified Digital Marketing Course: The certification provides 100 hours of instructor-led training along with access to three job interviews, two internships, and an incentive of ₹8,000 on course completion. The course is available at a price of ₹49,900, excluding taxes.
5. Learn Today (Digital Deepak)
Digital Deepak began as a blog to educate people on digital marketing, much like we did, but evolved into a digital marketing certification provider. The flagship offered by Learn Today, erstwhile Digital Deepak offers seven modules and provides hands-on experience in different aspects of marketing including Google AdWords, marketing automation via Hubspot, social media, email marketing, website development, and more.
Courses Offered:
Digital Marketing Mastery Program: The program offers seven modules which include 175+ hours of content and offers hands-on experience on different aspects of marketing. The program costs ₹49,999 plus taxes, and selected participants are offered 100% cash back on the program upon completion of the program based on certain parameters.
6. Indian Institute of Management, Calcutta
Indian Institute of Management Calcutta (IIMC) is a premier business school located in Kolkata, India. Established in 1961, it was the first IIM to be set up in India and is considered one of the best management institutes in the country. It offers various postgraduate, doctoral, and executive programs in management, along with several specialized courses in areas such as finance, marketing, and operations.
The institute has a strong faculty, comprising highly qualified and experienced individuals from diverse backgrounds. It is known for its rigorous academic curriculum, cutting-edge research, and close industry connections, providing its students with a strong foundation for a successful career in management.
Courses Offered:
Executive Programme On Digital & Social Media Marketing Strategy (EPDSMMS): This nine-month program focuses on providing comprehensive knowledge in the fields of digital and social media marketing and analytics. The program is divided into three modules and includes both face-to-face classes at the IIM Calcutta campus and online sessions delivered through a direct-to-device platform. The program fee is ₹3,82,000/- plus applicable taxes.
7. IIDE
IIDE is a digital marketing training and certification provider with a mission to make a socio-economic impact globally by becoming the world's largest contributor to digital marketing talent. IIDE has over 500,000 learners, 100 college partnerships, and 250 expert trainers.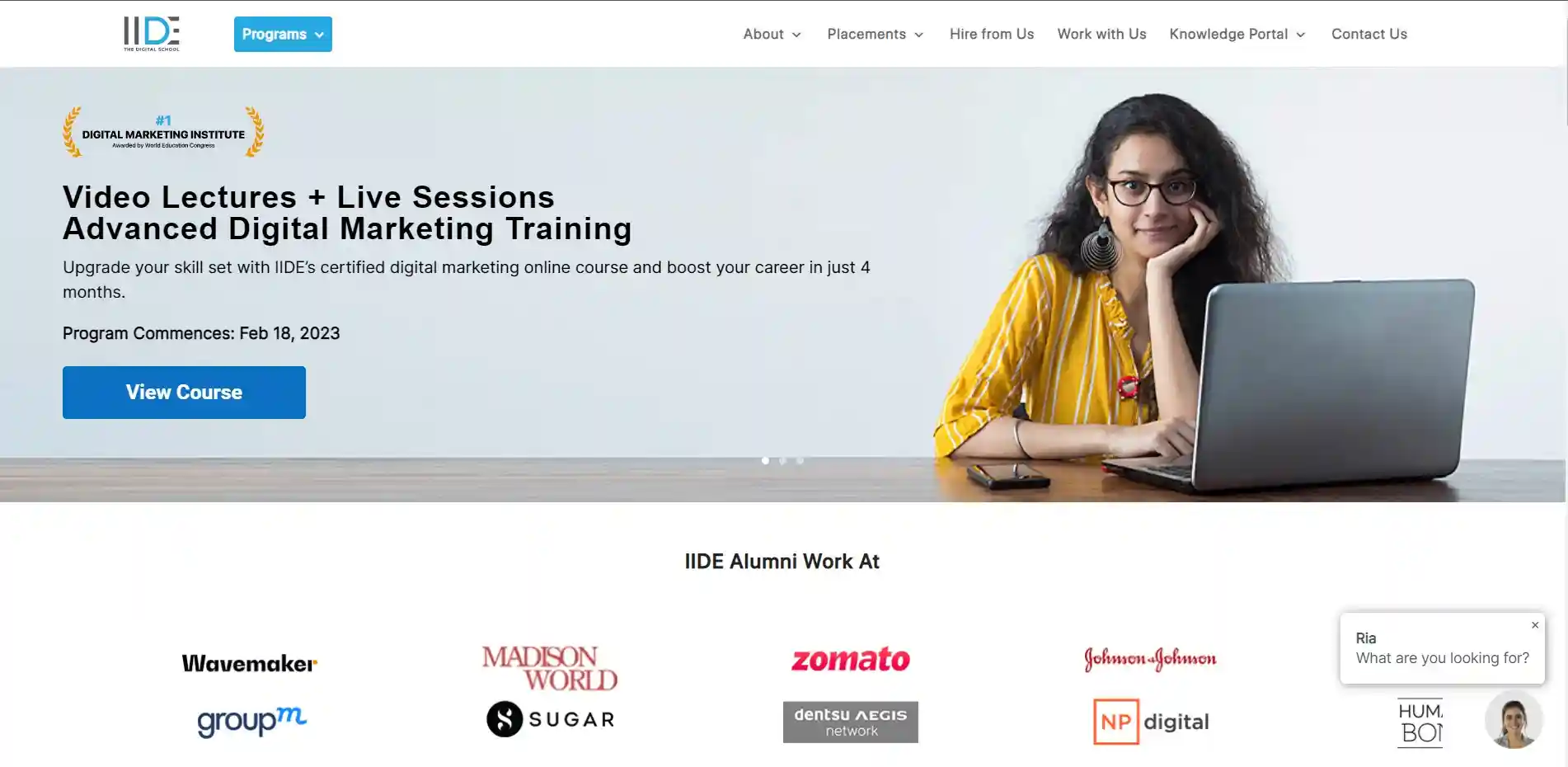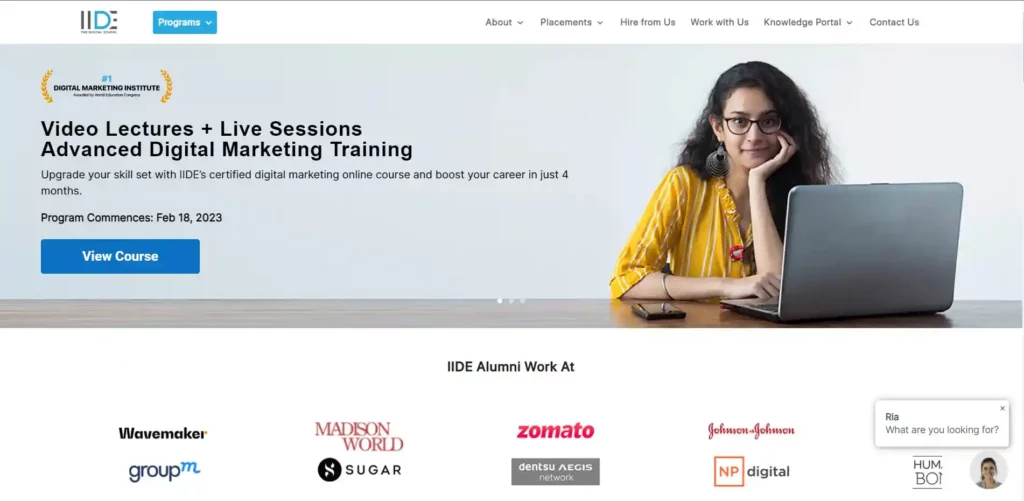 The company claims to have an 87% placement rate and has won multiple awards, including being recognized as India's Best Digital Marketing Institute and the Institute with Best Placements in Digital Marketing.
IIDE has partnered with the National Skills Development Corporation (NSDC), an initiative by the Indian government to skill India, and its courses have been recognized by NSDC as providing valuable skills. IIDE was founded in 2016 and has since expanded its training centers, launched an MBA in Digital Marketing, and established a campus in Nepal.
Courses Offered:
Advanced Digital Marketing Program: The course covers the basics to the advanced level of digital marketing and includes over 100 hours of live learning, over 50 hours of video learning, and 7 brand projects. The mentors are subject-matter experts with experience at top companies such as Facebook, Google, and Netflix. The course includes real-world projects for brands such as Starbucks, Oyo Rooms, and Dominos. The course is offered at a price of ₹98,250
8. Great Learning
Great Learning is an online education platform that provides professional certification programs, executive programs, and data science courses. The platform offers a variety of programs in areas such as data science, management, digital marketing, and more, designed to help professionals upskill and advance their careers.
The courses on Great Learning are taught by industry experts and are designed to provide practical, hands-on learning experiences. The platform also provides support services, such as career counseling and job placement assistance, to help learners achieve their goals.
Courses Offered:
Digital Marketing Post Graduate Program from Great Lakes Executive Learning provides comprehensive training in the latest digital marketing techniques and strategies. You will learn from experienced industry professionals, giving you the skills you need to succeed in today's job market. This program includes capstone projects that will allow you to apply what you've learned to real-life business problems. The program costs ₹125,000, excluding taxes.
9. NIIT
NIIT is a multinational technology company based in India. It was founded in 1981 and provides education and training services to individuals and organizations globally. The company offers a wide range of programs in areas such as IT, finance, banking, and digital marketing.
NIIT's programs are designed to provide practical, hands-on learning experiences and are taught by experienced industry professionals. The company has a strong reputation in India and has trained millions of students and professionals over the years.
Courses offered:
Digital Marketing Program: The Digital Marketing Program offered by NIIT provides training in various aspects of digital marketing such as SEO, social media marketing, Google keywords, and more. The program is available for 16 or 32 weeks and has flexible study hours. The program fee is ₹103,840 including GST and there is a 2-part screening process to evaluate aptitude and communication skills. The program includes placement assurance with a starting CTC of ₹300,000.
10. Intellipat
Intellipaat is an online education platform that provides a wide range of courses in technology and business domains. It offers courses on topics such as data science, cloud computing, software development, digital marketing, and more. The courses are designed to provide practical, hands-on learning experiences and are taught by experienced industry professionals.
Intellipaat's platform is user-friendly and allows students to learn at their own pace. It provides a range of resources, including video tutorials, practice exercises, and live projects, to support students' learning. The platform also offers flexible scheduling options and 24/7 support, allowing students to fit learning into their busy schedules.
Intellipaat's courses are designed to be comprehensive and provide students with the skills and knowledge they need to succeed in their careers. The platform has a large community of students and alumni and provides access to a wide range of career resources and opportunities.
Courses Offered:
Advanced Certification in Digital Marketing and Analytics is a 6-month online program offered by CCE, IIT Madras, and Intellipaat. It covers topics such as marketing fundamentals, organic marketing, paid marketing, and marketing analytics. The program is taught by IIT Madras faculty and industry practitioners and includes live sessions, self-paced learning, and hands-on projects. The program also offers support services such as resume preparation, interview mock-ups, and placement assistance. The certificate is from IIT Madras Center for Continuing Education. Upon completion of the program, graduates can expect a 55% average salary hike and a wide range of career opportunities in roles such as marketing manager, brand manager, SEO expert, PPC expert, and web analytics expert. The program costs ₹75,012.
11. Udacity
Udacity is a massive open online course (MOOC) platform that offers online courses and nanodegree programs in technology and business fields such as data science, artificial intelligence, programming, web development, and digital marketing.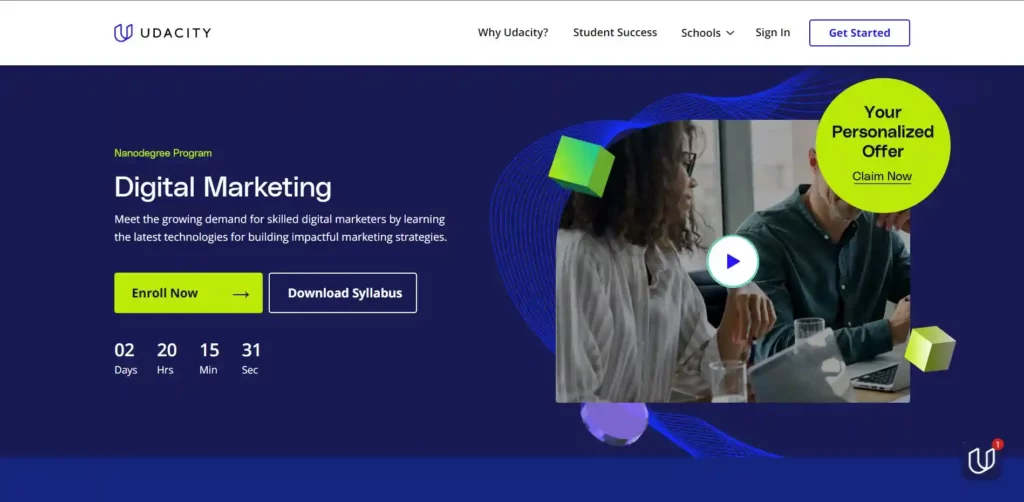 It was founded in 2011 with a mission to bring higher education to everyone, everywhere. Udacity collaborates with industry leaders such as Google, Facebook, and Amazon to create its programs and provides a personalized learning experience with project-based assignments and one-on-one support from mentors. The platform offers flexible learning options, allowing students to learn at their own pace and on their own schedule.
Courses Offered
Nanodegree Program: This 3-month program teaches the latest technologies in digital marketing to meet the growing demand for skilled marketers. The program covers digital marketing concepts such as value propositions, marketing objectives, customer journeys, marketing channels, and more. It includes courses in marketing fundamentals, marketing data, and technology, and electives in social media marketing, SEO, search engine marketing, digital advertising, and email marketing. The program includes real-world projects from industry experts, technical mentor support, career services such as Github portfolio review and LinkedIn profile optimization, and a flexible learning program. The program is designed for individuals with no prior experience and provides personalized services to ensure success.
How to Choose Between Online and Offline Courses?
In general, online courses provide a more flexible and convenient way to learn. The flexibility is due to the fact that you can choose your own time and place to study (online) and are not tied down to a classroom environment (unless you want one). Also, some of these courses do not require prior knowledge or experience. However, there are certain things that should be kept in mind while choosing an online course for learning digital marketing.
The first thing is the credibility of the platform. As mentioned earlier, most of these courses have been developed by experts in the field but this does not mean that they will deliver quality training material. It is always better to opt for those platforms which have a good track record for delivering quality training content at an affordable price. Also, it is important to look for platforms that have certification and course completion certificate programs.
The other thing to keep in mind while choosing an online course for digital marketing is the ease of access. Many times, online courses are delivered through video lectures which can be watched at any time (even on a bus or during work hours) without having to wait too long for the next one. The content in these videos should also be easy to understand so that you do not need any prior knowledge of digital marketing before starting with the course material.
Conclusion
Digital marketing is an ever-growing field with a high demand for skilled professionals. With the increasing use of technology and the internet, the need for digital marketing experts has skyrocketed. The courses mentioned above are the best in India and provide students with a comprehensive understanding of the digital marketing landscape.
From fundamentals to advanced topics, these courses offer hands-on experience and real-world projects, providing students with the skills they need to succeed in the field. Whether you're just starting out or looking to take your digital marketing skills to the next level, these courses are a great investment in your future.