Early last year, Youtube revised rates for the masthead ad from ₹ 72 lakhs to ₹ 1.4 crores per day. Let's say you have similar budgets to spend on print. A full-page ad in the Times of India, Delhi edition will cost you ₹ 70 lakhs. But Youtube is among the only platforms in India which reaches as much as 80% of India's population.
A masthead ad on Youtube garners a billion impressions every day (considering into account a single person may see it around seven times a day). For media buyers, this figure checks all major boxes. The CPM for a billion impressions at ₹ 1.4 crores comes to around ₹ 15. At last count, YouTube India had over 265 million+ monthly active users. So it doesn't come as a surprise that the Youtube masthead inventory for 2019 was sold out in record time.
What is fueling YouTube's growth in India? The answer is Content Creators. India has over 1,200 channels with one million subscribers. With two creators on average crossing one-million subscribers and 2,500 creators touching their first 1,000 subscriber milestone every day. Why is this important? Consider this in 2014 only 16 Indian content creators had more than 1 million subscribers. So have marketers noticed this trend? Google Trends report for the search term 'Video Marketing' reveals the true story.
The Rise of Indian Content Creators
Reliance Jio has been the driving force behind India's rapidly expanding internet usage. India now has the second-highest number of internet users behind China. After Jio's entry, internet data usage increased dramatically as access costs decreased. Content creators benefited from this trend.
95% of users on YouTube India consume content in local languages and dialects. The platform expects a 40% increase in content created in local languages like Bengali, Marathi, Tamil, and Telegu in 2019. YouTube launched YouTube Space (Studios) in Mumbai and Delhi last year. YouTube Space gives creators access to production equipment and themed production sets, to produce original content for their own YouTube channels.
The platform also launched its first original show – a music talent show titled 'Arrived' with A.R. Rahman's last year. The platform has plans to launch 50+ new shows in 2019. They are constantly working with creators, conducting workshops to help them with content creation and monetization.
Most Viewed Categories and Monetization Model
Music, Entertainment, News & Politics, Film & Animation, and Comedy are among the top five most viewed categories for 2018 as per Vidooly's report covering 2,900 YouTube channels in India. These categories are also among the most competitive to set up a new channel.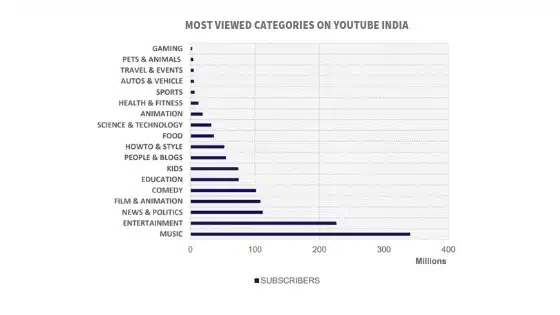 More competition also means that it is increasingly difficult to monetize your YouTube channel. Earlier a YouTube channel needed 10,000 lifetime views to be eligible for monetization. New rules introduced by YouTube in 2018 require both new and existing channels to have 1,000 subscribers and 4,000 hours of watch time within the past 12 months. These numbers aren't easy to reach, especially for smaller or niche content creators.
If you are making ₹ 200 per 1,000 impressions, then you are earning around 20 paise per view. Since YouTube doesn't monetize all video impressions your ad fill rate, in this case, could be anywhere between 10% – 50%. The rates per view vary based on the niche of the channel, engagement rate, and other factors. However, ad fill rates have seen a significant decrease in India after Jio's entry because digital ad spends from brands aren't growing at the rate at which the market is growing. Also, YouTube's attempts to curb bad actors by placing strict thresholds for monetization have contributed to this decline.
As Tanya Khanijow a leading travel vlogger mentions in her video, "Probably ad revenue has to be the lowest category of being able to earn online, and once I started off, I realized that quite quickly." So vloggers like Tanya are looking at other means of monetization like working on freelancing projects, influencer marketing, sponsorship, and brand collaborations. Relying on YouTube as the only channel to monetize your content is not a sustainable strategy.
Content creators are artists, storytellers, and subject matter experts. They are people with a genuine desire to help others succeed. Platforms like YouTube have given a fighting chance to talented people to succeed who otherwise would have never got the attention they deserved.