If you search for 'how does programmatic advertising work?' on google, you will encounter three hundred thousand search results, all trying to answer the same question. Consider programmatic advertising to be what quantum mechanics is for physics. Everybody talks about it, but only a few understand it well. Programmatic advertising India story has just begun, and Indian marketers are yet to explore the potential of the medium.
How Does Programmatic Advertising Work?
Let's start with the basics what is programmatic advertising? In the very initial days of the internet, buying ad inventory on the web meant signing RFPs, human negotiations and manual insertion orders. Programmatic advertising uses software to purchase digital advertising. Unlike ad units which get targeted to the entire audience base, programmatic advertising places ad units based on behavior, geography, demographics, time of day, weather and device.
Programmatic advertising uses Real Time Bidding which allows brands to buy and sell inventory on per impression basis in real-time. A programmatic platform places an ad unit based on the data available in less than 200 milliseconds after the user visits a website.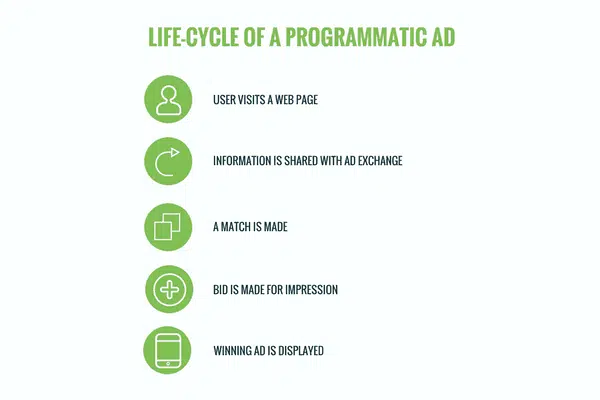 ---
Programmatic advertising is growing rapidly, in fact, the spending globally grew from $5bn in 2012 to $39bn in 2016. The US has been one of the early adopters of programmatic advertising and nearly accounted for 64% of the global spending in 2015.
For many brands, programmatic advertising is still a 'black box' as they don't understand the jargons used. In fact, leading players like Centro have a dedicated glossary for programmatic advertising to educate marketers on the different acronyms used.
We need to start talking about programmatic in a language that makes sense. Once we do that, we can become more transparent from all sides.
– Lara Izlan, Director, Commercial Platforms & Operations, Auto Trader
Programmatic Advertising: India Story
India is one of the fastest growing advertising markets globally although, the share of digital spending remains low at 12.7% for 2016. Programmatic advertising is still a small piece of the pie but is expected to grow as per recent reports from KPMG.
The projected growth of programmatic advertising outside of search is just about 5.7% compared to the overall increase of 67% in digital spending. In India, close to 40% of advertising spending still goes to TV.
Xavis, the global leader in programmatic advertising, has about 118 clients in India and that's only about 3% of its overall customer base. FMCG, healthcare, entertainment, e-commerce, travel and auto are the leading segments when it comes to spending in programmatic advertising.
Challenges for Programmatic Advertising: India Story
Direct is still the preferred channel
Most publishers still prefer direct channels to sell premium video and rich media inventory. Programmatic advertising hence constitutes lower-value formats which larger advertisers do not prefer.
Advertisers are yet comfortable buying media on a direct basis from publishers due to various factors like transparency, publisher accountability, feasibility of innovations, better campaign performance (in terms of CTR, CPC) etc. Though in theoretical sense programmatic advertising is adjudged to be the future, in India publishers need to travel a distance.
– Anandan Pillai, Associate Director – Paid Media, Performics.Resultrix
Limited Audience & Trustworthy Data
Brands have to pay higher minimum bidding price (eCPM) in India as most brands try to reach out to the same audience set in top 10 metros based on purchasing power and disposable income. Additionally, brands have concerns around the transparency of inventory available through the platform.
Increasingly display and video advertising is adjudged from the lens of viewability. Though programmatic advertising does take care of viewability to a large extent, advertisers need to understand the phenomenon and make increasing use of it during media planning and assessing campaign appropriateness.
– Anandan Pillai, Associate Director – Paid Media, Performics.Resultrix
Budgets
The ratio of online vs. offline marketing spends globally is around 50:50 while the ratio in India is still more inclined towards offline spends. For programmatic advertising to have a higher share of the pie, the overall digital pie has to get bigger.
Creative + Programmatic
Creative quality gets ignored in programmatic advertising because the media planners and the marketers don't understand how to incorporate creative performance measurement into ad buying systems. A system where every creative is treated equally penalizes the whole system. The approach for creative has to be different for a low-value display compared to a high-end video.
Making it work: Programmatic Advertising: India Story
Bring Programmatic & Creative Together
Creative is the most important factor for campaigns success. Dynamic logic study on online creatives suggests that quality of creative was 50% to 75% responsible for a campaign's success or failure. Media factors like ad size, placement and targeting only account for rest 30%.
Google created magic banners for programmatic advertising to showcase best practices for creatives on the medium. Nearly 95% of the creative is dynamic and is delivered to the user based on the demographics, time of the day, the day of the week, weather, etc. The ad units work because they bring the value of the product in the ad unit itself. The magic banners recorded twice the benchmark DoubleClick expansion rate (number of times the rich media creative is expanded).

---
 Transparency
Procter & Gamble, one of the largest digital spenders, decided to cut down its spends on ineffective digital ads this year. Asia has been prone to click bots and click frauds which has led to disrepute and skepticism when it comes to programmatic advertising. Google also recently refunded ad companies after detecting click fraud. For programmatic advertising to work, every stakeholder has to be transparent including the publisher and advertiser.
Publishers have to be transparent about the inventory that is available on the programmatic platform. If the publisher changes the inventory available from the backend, then it adds to the chaos. The analogy that one could think of is that of a vegetable vendor showcasing best quality vegetables at the top, but hiding few spoilt ones somewhere inside.
There were a lot of click bots and click-fraud that happened out of our region. That hasn't helped and has reinforced some particular buyers' views around the sorts of publishers they want to buy from – rather than just simply doing programmatic buying.
– Sonal Patel, Managing Director & Vice President, Appnexus
Industry bodies like I-Com and others are working towards creating smarter measurement metrics to bring greater transparency. Also, Real-Time Bidding (RTB) platforms should offer a pre-bid review of inventory they intend to sell. Marketers need to know where their impressions are coming from.
Experiment
Marketers are skeptical when it comes to trying out a new medium. Considering they have to work with the technology team to analyze data, create algorithms, and to gather insights that adds to their work. Also, few agencies lack programmatic talent who have prior experience with the medium which makes things more difficult. Publishers also are still figuring out how to work with the programmatic platform. For programmatic advertising to work advertisers and marketers should be willing to experiment and fail if necessary to learn and make things work.
Programmatic advertising in India has a long way to go. Besides the challenges raised above, another critical mechanism to ensure adoption of programmatic advertising has to be the exchange of knowledge between the marketing fraternity as mentioned by Malhar Barai.
Given the client budgets and a penchant to show quick conversions, in my opinion, it will take a while for programmatic advertising to become mainstream. Also, the lack of learning mechanisms will add to the delay. To make it more mainstream, I would like to see few of those experts getting ready to share their knowledge – what works, what doesn't. That should be the faster way for adoption, but until then, people have to learn it their own in a hard way.
– Malhar Barai, Group Manager – Marketing, Tech Mahindra
What are your thoughts on Programmatic Advertising: India story? Do share your thoughts in the comments section below.
---
Special thanks to Malhar Barai and Anandan Pillai without their input this article wouldn't have been possible.