The New York Times recorded its single biggest increase in digital news subscribers last quarter. The newspaper added 308,000 subscribers, taking its total digital news subscription to 2 million.
In 2016, New York Times generated 500 million in pure digital revenue which is far more than the digital revenues reported by leading publications like Buzzfeed, Washington Post, and The Guardian combined. Anyone remotely connected with the publishing business would suggest that New York Times is winning at journalism but the Times 'Report of 2020 Group' suggests otherwise.
Our report must change. Our staff must change. And the way we work must change. 

– Report of 2020 Group, New York Times
The brand has however recovered from the criticism that received for its leaked 2014 Innovation Report which clearly highlighted the papers struggle to embrace online publishing. With its new approach, New York Times has certainly reinvented content marketing.
Reinventing Content Marketing: New York Times
Visual Storytelling
As a publishing platform that churns out 230 pieces of journalism every day. Most stories from the New York Times is usually made up of long strings of text. New York Times is now closely tracking share of stories that have visuals deliberately placed.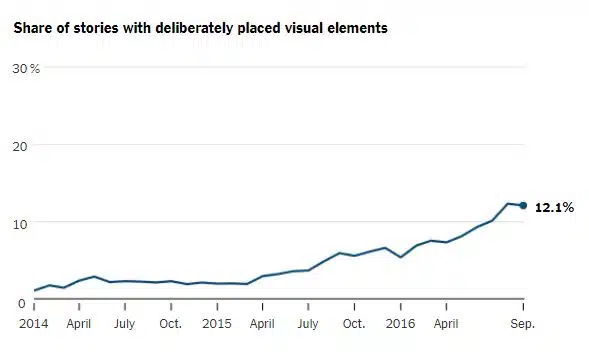 In 2016, the paper has been able to increase the number of stories with visuals to 12.1%. New York Times publishing platform Scoop has a built tool named Oak which makes the placement of visuals easier for journalists. Some of the recent articles from the Times clearly showcase the power of visual journalism.
Digital Native Mix
Times expanded to new forms of storytelling with its morning, evenings and live briefings. 2020 report suggests that it's the most successful product that they have launched till date. Daily Briefings has a loyal user base including both existing subscribers and non-subscribers.
"The role of good content studios is not only to ensure high audience engagement and impact, but also to reach the right consumers."

– Nelly Gocheva, Editor – T Brand Studio International
NYT also launched T Brand Studio in 2015 to provide papers content expertise to brands. The studio's motto is to enable brands to tell compelling stories. The studio is also letting the brand to bolster its native content offering for readers.  The team at the studio is behind several innovations from NYT including VR, immersive events, and augmented-reality experiences.
Virtual Reality
NYT launched its Virtual Reality app with its short film 'The Displaced'. The VR film shared the story of three children's displaced from their homes due to war and persecution. NYT won its second Grand Prix last year in the individual VR film category.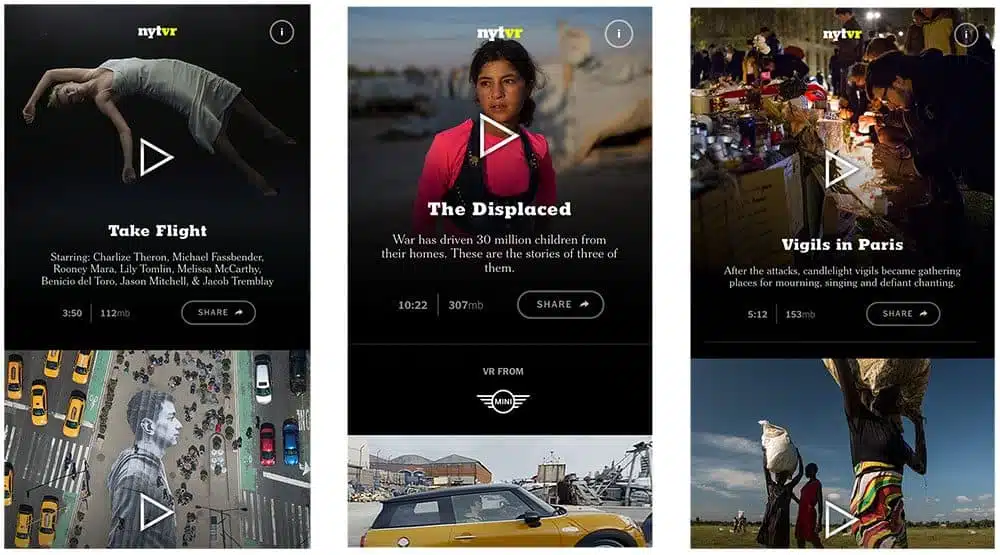 "What does VR do? It puts you in the middle of a story. I can see entertainment and sports being really interesting areas. You see the Olympics as a moment when people wheel out new ways of presenting media and I think we'll see that this year."

– Jordan Cohen, Corporate Communications, The New York Times
The newspaper also partnered with Google to give away nearly a million Google Cardboard virtual reality headset along with its print copy to viewers. With 'Seeking Pluto's Frigid Heart' the newspaper is experimenting with computer-generated images instead of live-action video.
Content Curation
Content curation might seem contradictory for a newspaper whose business depends on attracting readers onto its own platform.  The newspaper started publishing twice weekly round-up of stories under the made-to-share headlines. The stories shared offer a relief to the viewer from the unending torrent of news shared by publications.
With its curation strategy, the brand is also trying to present different perspectives on both sides of the ideological spectrum. The Times today has a team of reporters aggregating viral stories from the web.
"…The idea behind curation at The Times is: What if your really smart, funny, charming, friend — me — gave you recommendations of what to read without all of the craziness that you might get in your News Feed?"

– Anna Dubenko, Senior Digital Strategist, The New York Times
NYTimes with its renewed approach in content marketing is giving viewers more time on the platform which creates a natural cycle of loyalty.