Nearly 80% of marketers expect their organizations to invest more in tools and technology over the next few years based on a survey from Mirum. With MarTech spends poised to rise, we wanted to understand whether marketing technology companies in India are prepared to cater to the rising demand.
The larger challenge for companies trying to capture the demand is to ensure that the customer stays with them for at least three years. Companies that have used marketing technology solutions for over three years have seen a positive impact on their marketing activities.

As ROI continues to be a priority for marketers, brands are looking for marketing technology solutions that can provide them with a unified view of their digital activations. Nearly 62% of the marketers are looking for a single platform to track their digital activations.
When we looked at the marketing landscape, we wanted to look at marketing technology companies in India catering to Indian and global needs. The list comprises of companies that started their operations in India but now have a global customer base.
Top 15 Marketing Technology Companies in India
Here is a quick summary of the top 15 marketing technology companies in India:
Konnect Insights
Lead Squared
WebEngage
CleverTap
Simplfy360
Netcore
Zoho
Freshdesk
Scatter
Agile CRM
Capillary
Unmertric (Acquired by Falcon)
Betaout (now Bluecore India)
Unica (Acquired by HCL)
VWO
Konnect Insights is a social listening and analytics tool. The platform's search engine crawls more than 20 million online sources. Konnect insights provide integrated analytics and listening features for brands leveraging social media platforms like Facebook, Twitter, Instagram, YouTube, and others.
The platform currently works with clients like Ather, Dentsu WebChutney, DSP Blackrock, Mahindra Electric, etc.
2. Lead Squared
LeadSquared is a marketing automation and sales execution platform that helps businesses increase their closures, manage their pipelines, and attribute their ROI wholly and accurately – to people, marketing activities, lead sources, products, and locations.
The platform is built to handle thousands of users, millions of leads, and thousands of activities. LeadSquared is currently used by enterprises and small & medium businesses across a diverse set of industries. Leadsquared notable clients include brands like Byju's, Acko, Zolo, Practo, etc.
3. WebEngage
WebEngage is a full-stack Marketing Automation and Customer Data Platform for consumer businesses. The platform enables clients to retain their customer's users better and drive more business.
WebEngage facilitates cross-channel user engagement via various channels like Web Message (notification, survey, and feedback), In-App Message, Push Notification, Email, Text Message, Web Push, Facebook, and WhatsApp. Also, the WebEngage Journey Designer is a drag-and-drop user workflow builder for implementing multi-channel campaigns.
The platform currently works with clients like eBay, Flipkart, PluralSight, Sendgrid, GoIbibo, Avaya, Souq, etc.
4. CleverTap
CleverTap is a leading customer engagement and retention platform that helps brands maximize user lifetime value. Brands around the world count on CleverTap to engage and retain their customers. The platform currently processes over 10 billion data points and send over 2 billion communications every day. And, they deliver over 20 million push notifications in under a minute.
Consumer brands around the world representing over 8,000 apps—including Vodafone, Star, Sony, Discovery, Fandango LATAM, Carousell, and Gojek—trust CleverTap's platform to help them improve user engagement and retention, thereby growing long term revenue.
5. Simplfy360
Simplify360 is the leading Digital Customer Experience Platform. The platform enables brands and enterprises to enhance their digital customer experience and gain insights through data & analytics.
With their AI-driven conversation cloud and digital media command center and real-time dashboards, they empower clients to go beyond social. The company has a physical presence in India and the US and functions through partners in the APAC region.
The platform currently works with brands like Ola, TVS, Max, Toyota, Xiaomi, etc.
6. Netcore
Netcore was among the first marketing technology companies in India to go global by offering solutions for enterprises. Netcore's Digital Marketing suite includes promotional and transactional email marketing and mobile marketing capabilities.
The platform currently serves a strong base of brands creating 10+ Billion Customer Connects monthly and handles 30+ Billion Events a month. Netcore currently works with brands like Domino's, Thomas Cook, Dream 11, RBL, Ola, KFC, to mention a few.
Zoho MarketingHub is an all-in-one marketing automation software that gives brands the complete picture of their pre- and post-sales marketing activities. Zoho MarketingHub is part of Zoho One, which is the brand's integrated platform for businesses.
Zoho One gives marketing teams a comprehensive set of tools to build their presence, send prospects the right messages, and get great returns on their marketing budget. Zoho one includes tools to develop and optimize websites, engage prospects across channels and automate marketing processes, and boost ROI.
8. Fresh Marketer by Fresh Desk
Freshmarketer is a full-fledged marketing automation solution for fast-paced marketing teams. It lets companies intelligently engage their users across the lifecycle from pre to post-acquisition.
Marketers can use Freshmarketer to run lifecycle campaigns, build nurturing workflows, analyze their user behavior, do personalization at scale, and more. Fresh Marketer is currently used by brands like Descartes, Corsair, Ookla, Toshiba, Cisco, etc.
9. Scatter
Scatter is a purpose-built enterprise solution available to marketing teams. The platform enhances the digital marketing team's productivity by organizing the content creation process.
Scatter works with several brands to identify their content opportunities and develop an intelligent strategy to create and distribute their content across various channels.
10. Agile CRM
Agile CRM is the world's first fully-integrated sales, marketing, and service suite that provides businesses with full sales, marketing, and service automation functionality.
The platform is used and trusted by over 15,000 customers globally to generate & nurture leads, close deals, and support customers. Agile CRM provides a comprehensive, end-to-end CRM that delivers sales, marketing, and support automation to help small and medium businesses manage all parts of a customer journey, from a single platform, in order to drive sustainable, scalable growth.
11. Capillary
Capillary's experience platform integrates Artificial Intelligence and Machine Learning to make it easy for brands to get in-depth understanding and insights about their consumers.
The platform engages consumers through personalized 1:1 communication, provides easy and connected cross-channel commerce experiences, and builds loyalty to reward and retain the best consumers.
Capillary works with over 300 marquee brands across 30+ countries, including Pizza Hut, VF Brands, Walmart, Al-Futtaim, KFC, Starbucks, Madura Garments, Courts, and Samsung. The platform has over 300 million consumers and 25,000 stores on the platform.
12. Unmertric (Acquired by Falcon)
Unmetric helps brands and agencies get better engagement, more certainty, and faster reporting on their social media efforts. The company's enterprise platform enables digital marketers to research, plan, and optimize branded social content, and analyze learnings to create more engaging content.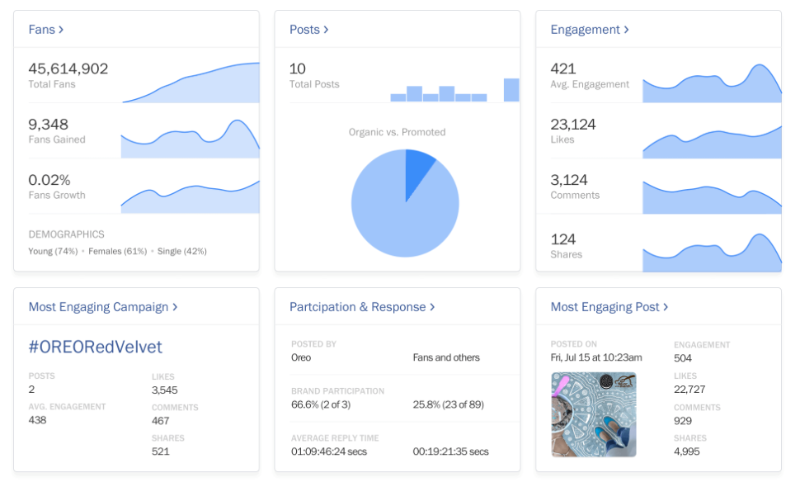 Unmetrics works with hundreds of global brands and digital agencies, including General Motors, Prudential, HomeAway, the Chicago Bulls, GroupM, and Ogilvy. Falcon.io acquired Unmetric in 2019 to create one of the largest complete, unified Social Media Management Solutions.
13. Betaout (now Bluecore India)
Betaout started out as a marketing automation solution to enables businesses to increase conversions and personalize user engagement, using real-time user persona & intent data.
The platform was acquired by Blue Core, a global marketing platform, in 2018. The platform enables e-commerce businesses to increase conversions and personalize user engagement using real-time user persona and intent data. Betaout has renowned clients in the repertoire, including e-commerce biggies like Paytm, Goibibo, GOQii, Mauj, Viacom US, etc.
Unica is a brand within HCL software, a part of HCL Technologies comprising multiple Enterprise Marketing Management components. It was formerly a brand within IBM. HCL acquired Unica as a part of the $1.8 billion purchase of select IBM products.
Unica was founded in 1992 by Yuchun Lee, Ruby Kennedy, and David Cheung. Post the acquisition by HCL, and the product has undergone a massive revamp. HCL has introduced three new modules Unica Deliver, Unica Journey, and Unica Link, to provide end-to-end, goal-based marketing capabilities.
15. VWO
VWO Experience Optimization Platform is an all-in-one platform that improves critical business metrics by empowering marketers to discover insights, test ideas easily, and enhance engagement across the entire customer journey.
With the VWO Experience Optimization Platform, brands can create a repeatable and data-driven process for analyzing visitor data, understanding user behavior, and implement and test different ideas for improving your website conversion.
VWO has over 6,000+ customers, including brands like PayU, Betfair, Zalora, Workzone, UbiSoft, etc.
Final Thoughts
The Marketing Technology companies in India are responsible for solving the current challenges that customers have when it comes to implementing marketing technology solutions.
For MarTech brands that are trying to build a global brand out of India should focus on the following:
Pre-sales (understanding industry requirements, pitching the right solutions, mapping ROI, and evaluation of internal skills),
Post-sales (providing training to build internal skills, assisting with systems integration), and follow-ups (upgrades, further training, evaluating if tool is being utilized optimally).
While some of the MarTech brands will be tempted to skip a few steps, companies must follow the best onboarding processes as marketers review their stack quite often – 64% do it at least once a year. If, as a brand, you would like to retain the customer for over three years, building the right set of processes will go a long way in enhancing your brand equity.
Looking to build your martech stack? You have come to the right place. Learn how to build your martech stack and some best practices to follow.