You've probably heard the term' influencer marketing' a few times over the last few years and wondered what it means. It is, without a doubt, a buzzword in the field of digital marketing. The influencer marketing industry is predicted to grow to $15 billion in the current fiscal year. It was just $6 billion in 2019, so an increase of $8 billion in three years is significant.
Of course, the pandemic has played a considerable role in this as people were unable to go out of their homes; they spent a lot of time online. This was when they explored multiple online shopping options, as that was the only option available during the entire lockdown period. They gradually subscribed to these influencers' social media sites and channels and began to value their opinion. Teenagers and young adults in their twenties, in particular, believe that these influencers play a significant role in their life and see them as friends.
Since consumers in their teens and early twenties spend all their pocket money and salaries (earned in the early years of their careers) for fun, they are the preferred demographic for the influencers. Clothes, shoes, lingerie, bags, travel accessories, gadgets, artificial jewelry, artificial jewelry, perfumes, make-up items, food items, and alcohol are just a few of their preferred purchases.
If your business manufactures any of these items, you can't ignore this demographic. This section has the most purchasing power since individuals in their 30s invest primarily in financial instruments, real estate, rent, and children's education. Despite their purchasing power, they are not the only primary purchasers of the products/services described above.
Who is an influencer?
An influencer is someone who has a sizable number of fans on social media sites such as Twitter, Instagram, YouTube, TikTok, Pinterest, Facebook, and other platforms. They have the ability to inspire people to act as fans value their opinion and expertise.
These influencers collaborate with brands consistently to increase awareness for their products or services. As they have a sizable fan base that consumes everything they post online, their reviews and opinions are very highly valued by their fan base.
As a result, brands rely on influencer marketing agencies in India to expand their exposure to the younger demographic and boost sales. If you are interested in learning more about the science behind how influence works, we have covered this in detail in one of our earlier pieces.
What is Influencer Marketing?
Nowadays, social media is the place where everyone congregates. While driving to school, work, or to meet friends, it seems as if everyone is glued to their social media accounts. Everyone appears to be leveraging their commute time to research new trends and share their thoughts on a particular product or service.
When someone gets a cold latte at a coffee shop, they instantly take to social media to express their dissatisfaction. All it takes is one review on a popular social media site, and soon people who have had a similar experience with the coffee shop start to respond. Within a few hours, that coffee shop loses hundreds of customers. That is why organizations' social media staff must be highly proactive in discovering unsatisfied consumers and pacifying them with appropriate remedies and an apology note.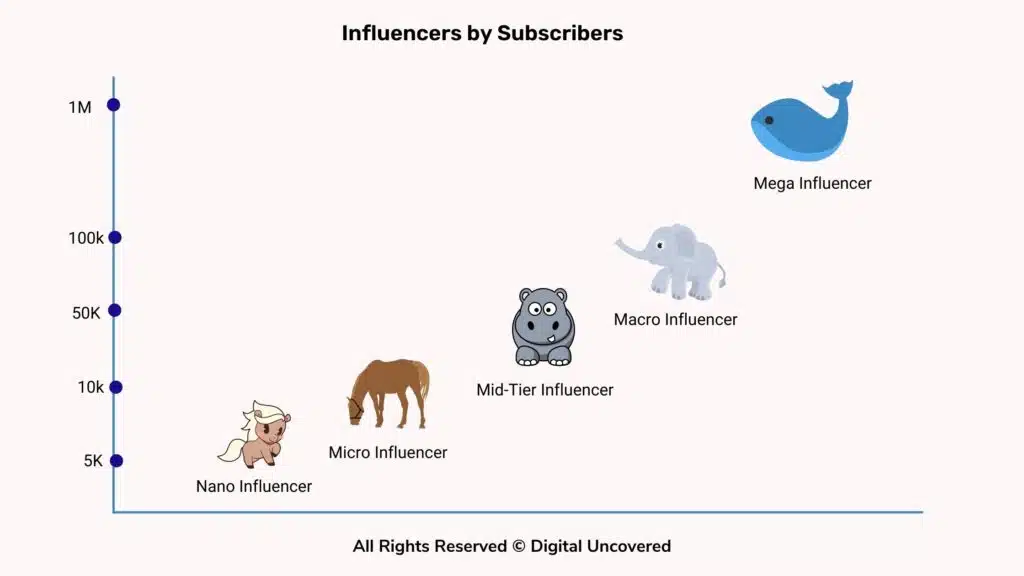 When it comes to influencer marketing, the brands have to identify top influencers and lure them to; brands must identify influencers in their niche and find ways to collaborate with them. Often, influencers get compensation or perks from businesses in exchange for their efforts.
If your business is contemplating collaborating with an influencer, you should partner with one of the many influencer marketing platforms in India.  These agencies or platforms assist you in streamlining the process by connecting you with relevant influencers in your niche.
17 Best Influencer Marketing Platforms in India
1. Grynow Media
This company has a huge influencer/creator base of 1,50,000+ influencers and creators. All the major social media platforms like TikTok, YouTube, Instagram, Twitter, Snapchat, etc., are covered if the brand is partnering with this company. Most influencers have their specific niche like gaming, fitness, career-related consultancy, beauty, fashion, food review, lifestyle, furniture, etc.
Employees of Grynow put a lot of effort into building a good relationship between the brand and the influencers. This ensures that both parties work with each other for a long time, and the influencers help the brands to increase their sales figures for real. The company is about 5+ years old, and all the brands who have worked with them are very happy with their dedication and involvement.
2. Plixxo
Founded by Priyanka Gill (The founder of POPxo), this influencer marketing platform in India has over 26,000 influencers. Bloggers, YouTubers, Tiktok video makers, celebrities, Facebook Influencers, Instagram influencers, Twitterati, and college/university/school campus influencers get an opportunity to sign up for paid campaigns launched by the brands.
3. Grin
Grin uses the power of top-tier marketing management software. Grin attracts all the listed users from its e-commerce sites and finds their social media profiles. It includes the list of all the influencers who have used the brand's products in the past and their opinion about them.
4. OPA
This company has a network of over 50,000 influencers, and its pricing is very competitive. They have worked with renowned brands like Lakme, Klairs, Marico, Godrej, Himalaya, Wow, CocoSoul, Plum, Sugar Cosmetics, BeardHood, BareAnatomy, The Man Company, Mittal Teas, etc., and helped them to increase their topline. This micro-influencer marketing platform in India is not even one year old, and they have already delivered results to some of the top brands in India.
5. Klear
Klear is four years old, and they have already worked with some top-notch international brands like Veritas, Huawei, Kayak, IBM, Adidas, JP Morgan Chase, Microsoft, Coca-Cola, and many more. They cater to small brands trying to gain a foothold in the market and massive giants to remain ahead of their competitors.
6. Influencer
This influencer marketing agency in India has a database of 25,000 social media influencers, Youtubers, Tiktok Video creators, and bloggers. They have helped reputed Indian and International brands like Hike, Jaguar, Himalaya, Axis Bank, Livon, Nykaa, Snapdeal, Kalyan Jewellers, Tata Cliq, Flipkart, Swiggy, SHAREit, etc. to up their games.
7. PulpKey
This influencer marketing agency in India enables brands and influencers to collaborate to tell their stories. They have helped Indian and international brands like Western Union, Zara, Amazon, Cure Fit, Hotstar, Mother Dairy, Faasos, and many others to increase their respective profitability.
8. Winkl
This Influencer marketing platform in India is also based in the silicon valley of India, Bangalore. This influencer marketing agency helps bloggers, YouTubers, influencers, and original content creators build their portfolios and showcase their creations to their peers and brands simultaneously. Facebook, Vivo, Purple, Bank of Baroda, Paragon, and many other Indian and international brands have been benefitted from their marketing strategies.
10. BrandMentions
This social media monitoring software helps brands find influencers who can boost their business. They have analyzed customer reviews and mentions for more than 10 thousand fast-growing companies. eToro, iProspect, Aureon, and Techhub are some of their happy clients.
11. Eleve Media
Their brand advocacy platform helps the brands engage with their respective customers and enables them to leverage the power of word of mouth. Extremely reputed international brands like Coca-Cola, BMW, Audi, Citi Financials, Amazon, Chevrolet, and many others have trusted their brand campaign strategies and benefitted from them.
12. StarNgage
This global influencer marketing company primarily investigates, customizes, handles, and gauges the WOM (word of mouth) marketing campaigns on Instagram for their client brands.  This company has a presence in India, and many reputed brands trust them.
13. Qoruz
This Influencer marketing platform in India depends on technology, and they have developed a highly data-driven methodology to gauge the effectiveness of their campaigns.  The brand managers will have access to real-time reports about the active influencers and their impact on promoting the brand. This mechanism helps the brands identify the influencers they are interested in working with in the future and those who are profitable for their particular business. They will pass on the influencer's contact information to the brands and help them liaison and launch effective campaigns and boost new product lines.
14. Blogmint
This influencer marketing company is Asia's first product-based influencer marketing platform.  They have the support of over 29,000 influencers and 900 brands and agencies. This company is one of the first influencer marketing platforms in India.
15. CreatorIQ
Igor Vaks founded this company in 2014. They are a global company, and they cater to brands all across the globe, including India. They have scores of brands in their kitty like Disney, Tiffany & Co., Unilever, Dell, and Ralph Lauren, who have used their services. They raised $40 million through venture capitalists in 2021.
16. #paid
This company does not use the traditional models of influencer marketing. They research the profiles of the right influencers for your brand, and you can choose the ones you need. The brands need to explain their campaign goals, the desired output they are looking for, and the platform will manage the rest for you. Premium brands like Coca-Cola, Starbucks, Ikea, Philips, and many others have used their services and are happy with their choice.
17. Confluencer
Confluencer works with over 200+ brands in India to support their influencer marketing activities. They started in 2019 and have worked across industries like Banking & Finance, eCommerce, Food & Beverages, Healthcare, and Education. Notable clients include Ola Money, PayTM, Octa FX, UpStox, Vedantu, and Meesho.
Conclusion
Influencer marketing is flourishing and is projected to be one of the most preferred customer acquisition channels in the years to come. If your brand has not considered influencer marketing, now would be the right time to start. Influencer marketing takes time to pay off, but you will start seeing results a year from now if you continue pursuing the strategy.