One of the challenges that marketers often face is reaching out to an audience that is not ready to buy. Remarketing to a certain extent solved this problem by reaching out precisely to the audience that is interested in your brand & you know this for sure because they have visited your site. Remarketing also has its downsides if you are a services brand where you have visible spillover with a non-core audience visiting your website.
As a marketer, you want to reach out to a prospect exactly the movement when they are planning to take that action which could range anywhere from buying a product to filling up a form for a quotation.
Google AdWords allows you to target ads based on audience interest on its Display Network & True View video campaigns even when your prospect is browsing websites, using apps, or watching videos not related to your product or service.
How does targeting by audience interest works?
Adding audiences to your ad groups in AdWords allows you to target audiences based on specific interests and categories. Google AdWords allows you to choose between different audiences based on which stage of the purchase funnel your audience is at.
Affinity Audiences
Affinity Audience focuses on reaching out to potential customers to build awareness about your brand. In a way, it's like running a TV ad for the audience with the only difference being here the ads are contextually relevant to the audience. Let's explain this with an example let's say you are a new sports website looking to reach out to cricket enthusiasts in India. In the below screenshot, you can see that your ad would be targeted previously to cricket enthusiasts in the select geography which in this case is India.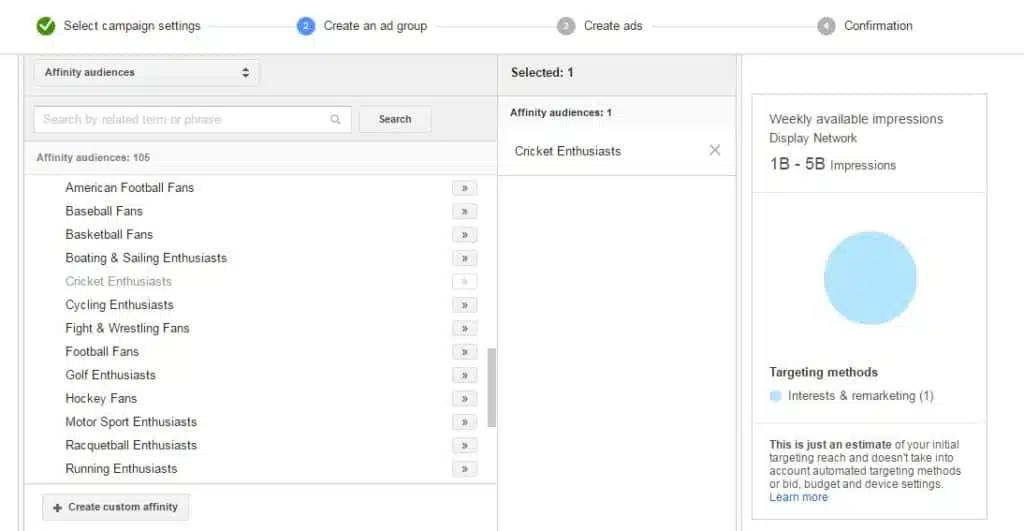 Custom Affinity Audiences
Custom Affinity Audiences goes a step further and allows you to target your ads using free-form interest entered as keywords, or you can precisely mention the URL's as a proxy for interest bundles. Let's go back to the previous example and build the audience for the same brand using a custom affinity audience. In the below screenshot, we are defining the persona of the audience that we intend to reach out to. AdWords recommends we use at least 5 interests or URLs to improve the quality and reach.
Once you have entered the interests/URL's AdWords lets you preview the audience. Based on the data you have provided AdWords provides you with a demographic break-up and set of website topics that your audience would visit. You can save the audience to proceed further or can choose to make changes until you are sure of the custom affinity audience you want to reach out to is part of the list.
In-Market Audiences
In-Market Audiences allow you to reach out to potential customers who are actively researching or looking out to buy products and services. If your goal is conversion or sale, then In-Market Audiences are something you should consider. In-Market audiences can also help in driving remarketing performance driving potential customers to make the final purchase. Let's say you are an electronics brand dealing with laptops then In-Market Audiences allows your target audience which is actively researching or looking out to buy laptops.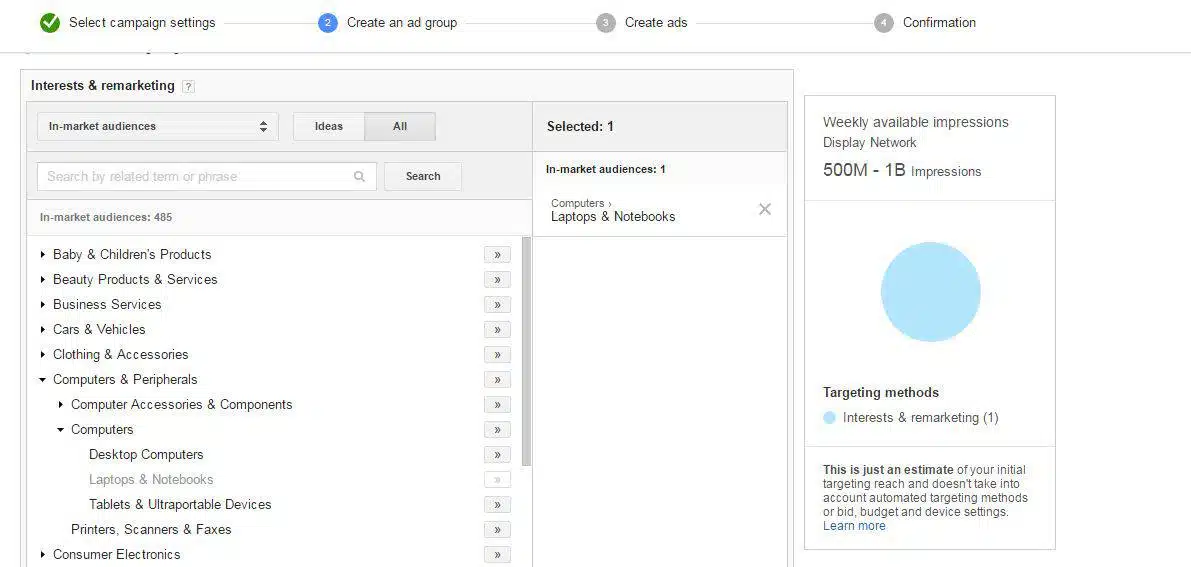 What's in it for marketers?
Marketers can personalize ads to In-Market Audiences or Affinity Audiences as they understand the intent and stage of the buyer's journey. Marketers have seen lower CPAs and 3X higher conversions on remarketing campaigns using In-Market audiences. Wayfair shares its experience of using In-Market Audiences to promote its products.
Similarly, Affinity & Custom Affinity Audiences have proven to improve brand awareness. Google has conducted Brand Lift Study to measure the impact of search ads to improve brand awareness.