What's the first thought that comes to your mind when someone says passive income? Does it remind you of the uncle or aunty you had who pitched an insurance policy as soon you got your job? Unfortunately, for a long time, most of us despised the idea of earning passive income. But today, you've so many avenues to earn passive income in India.
You don't have to pester your relatives with a financial product. Instead, you would send them an affiliate link that would get the task done without the need for a call or conversation. Before explaining passive income, it's essential to understand why you need multiple income streams despite having a full-time salary.
Relationship between Time and Money
Most of us will work for at least forty years, and chances you're may or may not like your job. If you don't want your job, you can always quit and find a new one. But it isn't easy to ignore the absurdity of work. Most titles are made up, and you will inevitably find what you're doing is meaningless.
This doesn't mean that we don't have meaningful jobs that make a difference to the world. But let's agree that it is just a means to end for a large percentage of people. As American Anthropologist David Graber points out in his book, "we have become a civilization based on work—not even "productive work" but work as an end and meaning in itself."
Most jobs are an investment in time. They are paying you a salary to buy your time, and the higher you move on the corporate ladder, you pay with your time. This doesn't mean companies don't value your time, but it doesn't change the fact that you're also effectively paying with your time.
As Naval Ravikant puts it, "Trade money for time, not time for money. You're going to run out of time first." It is essential to understand the relationship between time and money. If you're in a role that pays you by the hour, you will end up spending higher time as you earn more money. In a nutshell, you will never be able to separate input from the output.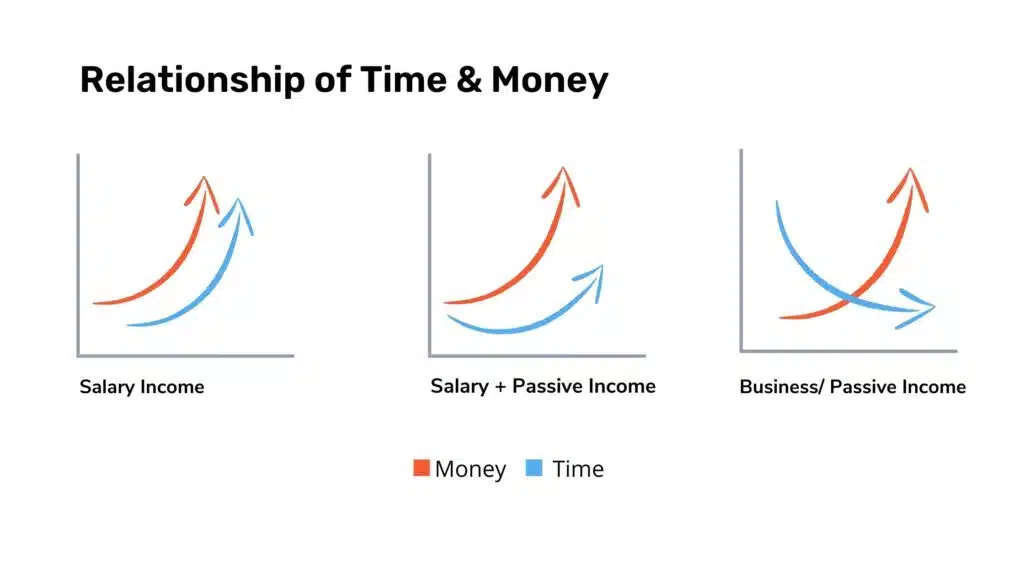 A large cross-section of roles does not allow you to separate your input from the output. If you're a highly-skilled programmer, you may be able to create the same code that took someone days to develop in a few hours. But for many of us, we will never be able to seperate input from the output.
With salaried income, you will inevitably have to spend more time at work as your income increases. If you have a side hustle along with your salaried income, you will be able to grow your revenue much faster. But if you earn a passive income, it will help you widen the gap between income earned and time spent.
But what we should ultimately aspire for is a relationship where you can seperate input from output or time from money. The software industry calls this non-linear growth, where your growth is not dependent on the number of people you add to the workforce. You could create a product that initially requires a considerable investment in time but starts compounding as time passes.
This can also be done by creating multiple income streams instead of relying on one or two. Understanding this relationship is fundamental to beginning your passive income journey and earning financial freedom.
What is Passive Income?
Passive income is income earned at regular intervals that requires minimum effort. It is referred to as progressive passive income when the earner has to spend minimal effort to grow the revenue. You can earn passive income by making financial investments, investing in a business, or creating your product or service that grows in value over time.
Irrespective of the definition, it is important to note that almost every passive income stream requires a considerable investment in time and money initially. Practically all legit passive income streams require effort to nurture before yielding results. If anyone tells you otherwise, it will most likely be a get-rich scheme that ultimately benefits the person selling it.
Best Ways to Earn Passive Income in India
If you're considering building a passive income stream, check out the ten strategies we have listed to earn passive income in India. We will not only list but also walk you through the opportunity, risk, and effort involved in building each income scheme.
1. Dividend Stocks
Shareholders in companies earning dividend-yield stocks receive payments at regular intervals. Most companies pay a cash dividend every quarter out of their profits. Dividends are paid on each stock you hold; the higher the number of shares you own higher the payout.
Investing in the stock market doesn't have any barriers; you can start your trading accounts on any of the popular brokers like Zerodha and invest in dividend-yielding stocks. The tricky part however is choosing the right stocks. Finding the right stocks will require you to research and understand companies' fundamentals.
If you don't have time to do the research, you can also alternatively invest in an ETF of exchange-traded funds. ETFs invest in a mix of stocks, commodities and bonds but have a lower risk compared to stocks. As they diversify their holding so if one company cuts its payout, it doesn't affect the ETF's price or dividend too much.
2. Affiliate Marketing
With Affiliate Marketing, you can promote products or services from other companies and get paid for them. All you have to do is promote the link shared by the third party; you get paid every time anyone clicks and purchases using the link. The commission you earn from affiliate marketing can range from anywhere between 3-9 percent.
To truly build your affiliate marketing income, you will have to develop your traffic and influence, which takes time. But with a massive influx of users on the internet, affiliate marketing has grown to become a substantial passive income driver for many. If you're interested in exploring affiliate marketing as a passive income stream, we have a list of affiliate marketing programs in India that you can consider and also a list of common mistakes that you should certainly avoid.
3. Rental Income
Investing in renal property is an effective way of earning passive income in India. You own a flat or car; you rent it out to someone to earn money. But earning rental income comes with multiple risks. When the supply is higher, you will not be able to command a premium on price, which will decrease your revenue earned. This effectively becomes a problem if you have fixed maintenance charges or mortgages to pay.
The second significant risk with owning a property is the rate of interest on the mortgage is always higher than the rate of appreciation. Maybe the mortgage interest rates have reduced a bit in the last few years, but rental incomes have also fallen in the same period as people have moved to their hometown due to the lockdowns. Lastly, owning a property is a very expensive proposition considering a large cross-section of housing in India is over-priced.
4. Create a course
Creating a course is force-multiplier when it comes to generating passive income. You can list the course on one of many edtech platforms like Udemy, Unacadmey, or SkillShare. The only challenge is creating a course takes a massive amount of effort, right from structuring the syllabus to shooting the videos. Also, you need an audience to sell the course if you're planning to list the course on your own platform.
But once you succeed with the course, it is easier to replicate the success by building more courses.
5. Create a blog or YouTube channel
YouTube has paid more than $30 billion to creators in the past three years from ads, merchandising, and other service features. In January 2020, there were around 300 channels that had over 1 million subscribers. Considering four YouTube hit the one million subscribers mark every day, we believe the number of channels with one million subscribers would have grown substantially in India.
This explains why people are considering YouTube as a passive income stream. The whole idea of talking about things you like and getting paid for it doesn't sound like a bad idea. Despite losing some of its charm, blogging is still a very effective passive income stream if done right.
However, both blogging and vlogging require massive investment in time, money, and effort. Both streams require at least two years of consistent effort before you can start monetizing. The most significant risk to both streams is that you're at the mercy of algorithms.
6. Dropshipping
Dropshipping is a form of retail business where you accept customers' orders, but you don't keep any goods in stock. For instance, you found an inexpensive piece of home decor at a local manufacturer. The local manufacturer agrees to sell the item to you at a certain price if you purchase a few units every month.
You list the product on your site and get customers to buy from your site. After the order is placed, the local manufacturer does the rest of the fulfillment. While the whole idea of dropshipping sounds exciting, the only problem is you don't get to control the entire experience. Also, if Amazon lists the same product on its site, your business has to shut its door.
Dropshipping is nevertheless a passive income stream that will help you understand the whole e-commerce business. If you're getting into the dropshipping game, you ultimately will have to become vertically integrated at some point.
7. Provide a service
If you have a skill that you're good at, it could be anything from designing to video-editing; you can list yourself on one of the many freelancing marketplaces to provide your service. Like some of the other passive income streams, Freelancing takes time to grow. But once you have established trust and credibility with clients, you will keep getting repeat orders. Freelancing is a relatively low-risk stream compared to other ways to earn passive income in India but is undoubtedly an investment in time.
8. Write an e-book
Writing an e-book may be an excellent way to take advantage of low-cost publication and even use Amazon's global distribution to bring your book in front of potentially millions of prospective consumers. E-books may be very brief, approximately 30-50 pages, and relatively inexpensive to write since they are based on your own experience.
To establish a following, your e-book must be really strong. It helps if you have some means to advertise it, such as an existing website, marketing on other related websites, media appearances or podcasts, or anything else. As a result, you might put in a lot of effort up front and get little in return, particularly initially.
9. Become an influencer
If you have a sizable social media following on platforms such as Instagram or TikTok? You can persuade emerging consumer companies to pay you to post about their products or showcase them in your feed in other ways.
However, you'll need to continue populating your profile with information that attracts your audience. And that requires continuing to develop social media postings that expand your reach and engage your fans.
10. Domain Name Investing
Domain investing, often known as domaining, is similar to stock trading. You acquire cheap domain names with the expectation of reselling them for a profit. Typically, you'll want to target popular phrases or particular proper nouns, and bear in mind that .com domains are more expensive than almost all others in the United States.
While it is inexpensive to begin, you can acquire names for as little as $10—there is a chance that you may be unable to sell the domains you purchase, resulting in a loss of your original investment. Additionally, you'll be responsible for the yearly price charged by your registration agency.
That's all, folks; we hope that article will enable you to earn passive income in India and take you closer to your dream of achieving financial freedom.