We live in a world where it's becoming difficult to differentiate noise from the information. Brands are producing more content than they did before. Consumers have multiple devices and an endless number of channels to consume information. As marketers, our task is to make sure that content creates value both for the brand as well as the consumer. If marketing is a relay race, consider content marketing to be the baton.
Content Marketing is a marketing approach to creating & distributing relevant content to a defined audience with the aim of deriving a desirable action. It focuses on building a relationship and loyalty by providing value to its readers.
Doesn't it sound interesting to you? Here is a brief overview of content marketing with unique perspectives from some of the leading brands in the world.
Content Marketing is often used by businesses for:
Building brand awareness to expand customer base and enter new markets.
Generate leads for the business.
To engage and provide valuable information.
Generate sales via online or offline channels.
What is Content Marketing Strategy?
Content marketing strategy involves the planning, creation, distribution, and measuring the performance of content developed to either generate awareness or generate leads for your business.
So how does your brand create a content marketing strategy? Build your content marketing strategy by following the below steps:
1. Define Your Audience Persona
To be a good storyteller, you must know your audience well. No matter what your goal is, you must craft a persona of your audience. Use primary & secondary sources to gather information about your audience.
To design an audience persona you would need to know the following:
Who is your audience,
How they buy,
Why they make buying decisions,
When they take the decision to buy,
Where they buy from,
What goals drive their behavior
When created audience persona will be a representation of your ideal customer. Map your audience personas to the sales lifecycle to create targeted content.
You can use the following methods to design an audience persona:
Gather insights from the existing customer database.
Conduct surveys to understand buying patterns and customer preferences.
Gather feedback from your sales team on the profile of existing customers.
Interview existing customers either in person or over the phone to understand what they like about your product /service.
Based on the research craft a primary persona which includes the following information:
Background,
Demographics,
Identifiers,
Goals,
Challenges and what can your brand to do to help the customer.
Audience Persona will enable customers to check your approach in their own terms. It will enable you to build a bond of trust that competitors can't match.
2. Develop Your Content Marketing Framework
Micheal Porter, in his 1996 Classic, wrote: "The essence of strategy is choosing what not to do." Content Marketers need a framework that articulates your purpose and goals while building a content strategy.
Content Marketing Framework helps you define the core elements you would need to design a successful and scalable content marketing operations. Every brand has the flexibility to determine its framework. We have covered the most popular content marketing frameworks that you can leverage while designing your content strategy.
Content Marketing Framework from the Content Marketing Institute has five core elements:
Purpose & Goals: Why are you creating content and what value will it provide
Audience: Who are you creating content for, and how will they benefit
Story: What specific, unique, and valuable ideas you will build your content assets around
Process: How you will structure and manage your operations in order to activate your plans
Measurement: How you will gauge performance and continually optimize your efforts
Tofu-Mofu-Bofu Framework
Tofu-Mofu-Bofu is a framework that develops content based on your conversion funnel. Most brands simply ignore at least one part of the funnel. With this framework, content marketers can ensure that they are reaching out to every segment.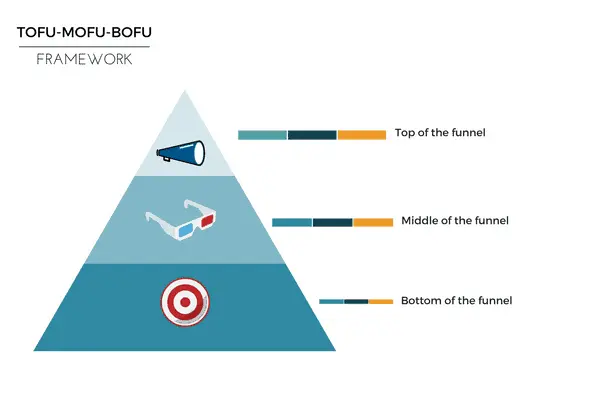 Tofu: Building awareness about your brand / the problems you address
Mofu: Educating people on how to choose a solution
Bofu: Explaining why your product is the best solution
This framework requires you to develop customer personas, which will enable you to identify which stage of the funnel the customer is currently. Hubspot is a brand that effectively leverages the Tofu-Mofu-Bofu framework.
Hedgehog Concept
Jim Collins was the first to mention the hedgehog concept in his book 'Good to Great: Why Some Companies Make the Leap… And Others Don't'. The concept is based on a fragment of verse by the Greek poet Archilochus which says, "The fox knows many things, but the hedgehog knows one big thing."
A Fox tries to catch a hedgehog using a variety of techniques including sneak, pounce, race, and even playing dead at times. While the hedgehog only does one thing well, which is to defend itself. According to the hedgehog concept, companies are more likely to succeed if they only focus on one main goal.
This one primary goal is achieved at the intersection of the overlapping circle:
Your passion
What you're best at
What makes you money
Groove is an example of a brand that uses the Hedgehog concept for content marketing.
Hero-Hub-Help Framework
Hero-Hub-Help framework enables you to structure your content.
Hero Content: Orginal and insightful content that is ten times more valuable compared to anything else that's available on the web for the visitor
Hub Content: Episodic content to keep your subscribers/followers engaged on a weekly basis. Hub fuses both hub and help content.
Help Content: Answer frequently asked questions by customers and prospects.
Moz leverages the hero-hub-help model to created content.
Spaghetti Framework
Spaghetti framework allows to throw stuff at the wall and see what works. The framework works on two approaches.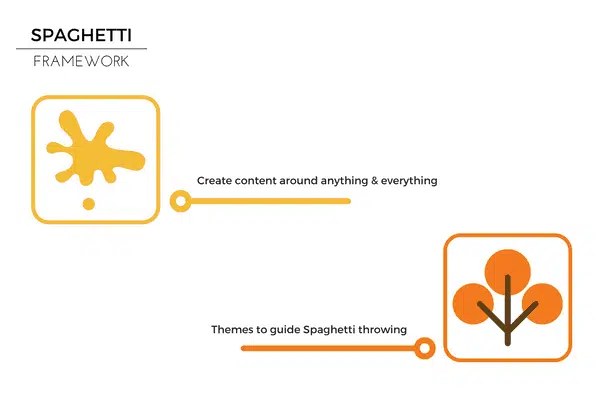 Approach One: Create content around anything & everything
This approach about finding the right mix for the Spaghetti by adding anything that you deem fit. This approach is recommended for beginners who would want to test waters and see what works for them. Buffer used this approach in the beginning and later pivoted to other frameworks after they had a deeper understanding of what content worked for them
Approach Two: Themes to guide Spaghetti throwing
Rather than adding random items to your Spaghetti, you use a more focused approach by deciding on themes. For instance, a healthcare brand will only write about sub-topics in nutrition and diet care.
3. Starting with Content Creation and managing workflow with Content Marketing Platform
Content Creation involves crafting content for a defined audience based on a predefined context. Content creation is the most difficult part of the entire process.
What does the Content Creation Process involve?
Content writing is both art and science. It starts with the research process to identify suitable topics or themes. The research process can leverage tools to find trending topics and keywords.
We listed some of the tools that you can use for research below:
Google Trends – Find trending topics & keywords.
Answer The Public – Find questions that viewers want answers to.
Quora – Find questions and views on topics.
BuzzSumo – Find content with high virality.
Moz Keyword Explorer – Find associated keywords & phrases for any topic.
Ngram – Search Google Books for trending content & keywords over the years.
Google Search – Finding existing websites that already rank for a certain keyword or phrase.
The research process will enable you to plan the structure of your article. You can choose to create, curate, or co-create the content post the research phase.
Create: Your editorial team will create the content based on insights from research.
Curate: Spin-off of existing content with extra inputs.
Co-Create: Content developed in partnership with a third party.
How do I decide on which Content formats to use?
Deciding which content formats to use can be tricky. Before deciding the content format map it to the audience persona.
Use long-form content when your aim is to provide more insights into a certain topic. Prefer short-form for digital consumption as viewers have a shorter attention span.
Bite
Snack
Meal
GIF's
Facts/Insights
Event Updates
Product/Service updates
Quotes / Testimonials
Videos (7 seconds or less)
Video (30 seconds or less)
Articles (500 words or less)
E-mailers/ In-Mail
Press Release
Articles/Point of view
Reports/ Micro-site
Case Studies
Videos (2 minute or more)
Webinar/Live Video
Infographics
E-Books
An ideal content mix should have both short-form and long-form content. We recommend using the bite-snack-meal model for the content mix. The split between short-form and long-form content usually is 60% – 40%. As creating long-form content is more time-consuming compared to short-form content.
How much content should I create?
When it comes to creating content, there is no industry standard. The industry debate on quality vs. quantity still prevails. We recommend using the crawl-walk-run model to test your content creation capabilities.
| | | | |
| --- | --- | --- | --- |
| | Crawl | Walk | Run |
| Create | 2-4 pieces per month | 2-4 pieces per week | 1+ pieces per day |
| Connect | Blog, social, email | Blog, social, email, paid distribution | Blog, social, email, paid distribution, native publishing on social |
| Optimize | Google Analytics, biannual content evaluation | Google Analytics, engagement, depth analytics, conversion tracking, quarterly content evaluation | Google Analytics, engagement, depth analytics, conversion tracking, enterprise listening, ongoing content evaluation |
| Internal Resources | 0.5 FTE (full-time employee) (e.g.,marketing manager) | 1.5 FTE (e.g., director of marketing and content marketing manager) | 0.5 FTE (full-time employee) (e.g., marketing manager) |
| External Resources | 0.5 FTE (e.g., freelance writer or editor) | 2.5 FTE (e.g., freelance writers, designers, strategists, and managing editor) | 0.5 FTE (e.g., freelance writer or editor) |
How much does content marketing services cost?
Content writing costs $1 to $2 per word; however, the rates could differ based on the nature of content developed. The charges vary based on the agency or writer you hire. Additionally, the cost of content development usually doesn't include research, creative services, and commissions charged
The below list provides indicative rates based on your content marketing needs.
| Content Type | Rate (Approx.) |
| --- | --- |
| Website Copy-writing | $50 – $65 (500 words) |
| Social Media Posts | $30 to 50$ for 8 pieces of content |
| Articles | $60 to $100 per article (1000 words) |
| Press Release | $50 – $70 (500 – 600 words) |
| Case Studies | $100 -$160 (1500-1800 words) |
| Presentations | $80 – $120 (12 slides) |
| E-mailers | $60 – $80 (400-700 words) |
What are some of the content creation best practices?
Start by designing your content style guide to define the tone, formatting, and image usage.
Use the Inverse Pyramid writing style for brevity and easier consumption.
Use data points to substantiate facts when required to build credibility.
Keep a delicate balance between visuals and text content to break the monotony.
Experiment with narrative styles until you find your own style.
Repurpose long-form content into different content formats.
Write about trending topics to improve the reach of the content.
How should I go about creating the content marketing calendar?
Content marketing calendar is a tool that will help you to plan, organize, and execute your content marketing strategy in a timely manner. It helps your team to be organized and also respond to marketing opportunities better.
We have developed a content marketing calendar to help you stay organized. Head over to the resources section to download the content marketing calendar for free.
Content Marketing Platforms
Content Marketing Platforms allow content marketers to create, distrbute and manage content. Content Marketing Platforms enable marketers to automate repetitive tasks and also provide intelligence to improve their overall effectiveness.
How & where does Content Marketing Platform fit in the marketing eco-system?
Content Marketing Platforms integrates and simplifies every task in your content marketing framework. CMP enables brands to execute an effective and efficient content marketing strategy. CMP also offers interoperability between various software systems within the marketing technology stack.
B2B Content Marketing Platforms
Curata
Curata Content Marketing Platform is developed specifically for B2B brands to drive leads and revenue from content marketing. Key components that the platform includes strategy, production (e.g., calendaring, workflow), and analytics.
Kapost
Kapost's Content Marketing Platform enables marketers to deliver content that drives revenue and retention. The platform enables you to collaborate, distribute, and analyze all content types within a single platform.
Eloqua (formerly Compendium)
Oracle acquired Compendium's Content Marketing Platform in 2013. Compendium's Content Marketing Solutions are now deeply integrated into the Oracle Marketing Cloud under the product name Oracle Eloqua Content Marketing.
B2C Content Marketing Platforms
Percolate
Percolate enables marketers to see, organize and improve everything that marketing does. The platform is used by over 800 brands to manage cross-channel marketing. The platform is used largely by B2C brands.
Newscred
NewsCred helps brands manage the entire content marketing process from a single platform. The platform enables brands to streamline web publishing and distribution thereby improving the entire customer experience.
Services-oriented Content Marketing Platforms
These companies, by contrast, have a core value of content creation services that they either deliver or field to a marketplace of professionals. On top of the services, they have built content marketing software.
Skyword
Skyword platform enables brands to tell great stories by leveraging its community of thousands of freelance writers, videographers, and influencers. The Skyword Platform focuses on helping brands to build a scalable and sustainable content marketing.
Contently
Contently's content marketing solutions enable brands to adopt a data-driven approach to content marketing. The platforms content marketplace has over 10,000 freelance journalists, videographers, and graphic designers.
ScribbleLive
ScribbleLive enables brands to manage the entire lifecycle of content. The platform recently acquired Visually design and content marketplace last year to strengthen its offerings.
UberFlip
UberFlip started with Flipbooks but later started focusing on helping brands to deliver superior content experiences. The platform allows brands to create Content Hubs to create, distribute and manage content marketing efforts.
BrandPointHub
BrandPointHub allows content marketers to manage every piece from planning to publishing to measurement with its content creation and publishing tool.
5. Build Your Content Distribution Strategy
Content Distribution involves using different channels to promote your content to the audience.
The channels can be categorized into the following groups:
Owned: Distributing content using properties that you own like your website, your opt-in database, etc.
Shared: Using third-party websites to distribute content. Shared channels, including social, professional & messaging networks.
Earned: Publishing articles, speaking opportunities, events, and awards are covered under earned media.
Paid: Any channel that requires you to pay to reach the audience is covered under the paid channels.
Owned
Shared
Earned
Paid
Slideshare
Email
Website
Our Building
E-Books
Twitter
LinkedIn
Facebook
TikTok
Instagram
Pinterest
Quora
Published Articles
Speaking Opportunities
Events
Awards
Keyword Buys
Sponsorship
Why do you need a content distribution strategy?
Without a content distribution strategy, even the most innovative and groundbreaking content would never be discovered. For your content to be found, you need to use a content distribution strategy that leverages both paid and unpaid distribution channels in conjunction.
How is your audience currently consuming content?
As content marketers, you need to identify when, where, and how does your audience consume content currently. For example, if you are targeting millennials, you are more likely to find them on social networks than on e-mails.
How to get people to read your content?
If you want people to read your content give them something that's of value to them. If you have designed an audience persona then design your content based on users' needs and aspirations. Considering your readers often multitasking and not just reading your content.
Follow these simple rules to make sure that your readers are going to complete reading your content.
Each sentence should lead to the next.
Follow the inverse pyramid to make sure that you share the essential information at the beginning of the article.
Use images to break the monotony.
Write shorter paragraphs and break the content into different sections.
Use videos in case the topic can be better addressed using a visual.
6. Evaluating Content Marketing Metrics and Optimization
Marketers have, over the years, struggled to showcase the effectiveness of their campaigns. In the words of John Wanamaker, "Half the money I spend on advertising is wasted; the trouble is I don't know which half." Content metrics make it easier for marketers to check campaign effectiveness.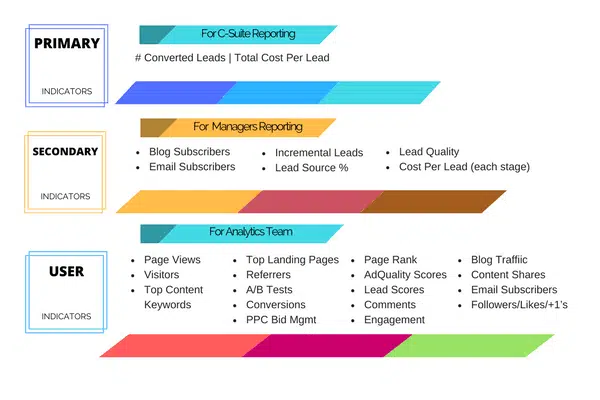 To measure the campaign effectiveness, you need to identify the metrics that matter. Every campaign could have different sets of goals which could range from:
Entertain,
Educates,
Persuades,
Converts prospects into customers.
Analytics Layer simplifies reporting & analytics for stakeholders involved.
For C-Suite reporting, present the vital Key Performance Indicators that have a direct impact on business.
For mid-management & analytics team would need a granular view to improve the effectiveness.
Not all metrics are equal. Buzzfeed gives more weightage to share rate as the brand's focus is to build virality using the content. As you progress with your campaign, you will discover metrics that are more important to measure performance.
Why are people not reading your content?
This is one of those questions that has kept me awake at night. It's difficult to answer these questions without knowing exactly where you are going wrong. But here are some of the most commonly made mistakes.
Content length: Research has proven that content length matters when it comes get ranked in search engine research pages. Ideally, your shortest blog post should at least be 1200-1300 words in length.
How do people read online? It's essential to understand how users read online. We have seen sometimes the website structure isn't designed based on readers' preference. We have compiled a list that gathers insights from various researches conducted over time to help you with an answer. Read the article on how users read online here.
Lurker's Paradox or 90-9-1 Principle: Nearly 90% of the visitors who read your content are merely lurking around while they might consume your content, but they will never engage in a conversation. This continues to be a reality for most of the sites on the web. That's why you find that only 1% of users actually engaging with the site actively while the rest of users engage passively.
Load Time: If your webpage is heavy and does load for the users within the first 5-6 seconds, they are likely to leave your webpage without reading anything further.
Content Optimization
Content Optimization involves reviewing and optimizing your content based on viewer feedback. The term is also used in the context of optimizing content for search results. Content optimization is an iterative process and enables you to find your audience.
Relevancy: Viewers will spend more time reading your content only if they find it relevant.
Discovery: 75% of users never scroll past the first page of search results. Your content has to show up in search results for the right set of keywords and phrases.
Value: Viewers will only share relevant, insightful, and entertaining content.
Trust: It takes time to earn loyalty. Build trust through content that's objective and doesn't sound pushy or salesy.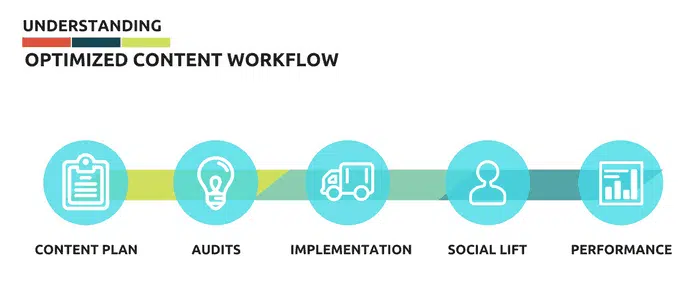 To optimize your content workflow, you need to have checks & balances at each stage. Content audits enable you to iterate and make changes in real-time. They also enable you to build consistency, clarity, and credibility.
Content Marketing Examples
Content marketing can valuable for any brand, but only a handful of brands create content that exceptionally well executed and resonates with the audience. They all have one thing in common, which is they not just create awareness but also deliver on sales goals. Here is our list of content marketing examples:
HP: The Wolf
HP delivers a revelatory hacking message – Printers can be dangerous too.
The dramatic episodic series starring Christian Slater, exposes the many ways in which a hacker can bring down an organization through one of the most overlooked office devices: the printer.
Results:
The breakout video received over 12.5 million views & 118 million earned PR placements worldwide.
The campaign changed the brand's perception and brought the declining industry B2B printer sales up by 6%.
The series continued with new short films like The Wolf: The Hunt Continues, and True Alpha.
State Street: Fearless Girl
Companies with women in leadership perform better, but women are underrepresented.
On International Women's Day 2017, State Street Global Advisors placed Fearless Girl in New York's financial district to ignite a conversation about the power of women in leadership.
Results:
SHE generated over a billion impressions on Twitter in the first 12 hours.
In three days she drove average daily trading volume of the SHE fund up 384%.
According to estimates from Apex Marketing, the statue resulted in $7.4 million in free advertising for SSGA.
Google Cloud: Know what your data knows
IT decision makers didn't see Google Cloud as an enterprise-ready solution.
So through a partnership with the NCAA, we used March Madness to showcase the Cloud's AI-prowess—creating the ultimate product demonstration on live TV.
Results:
The campaign drove a 13% lift in unaided brand awareness, 11% increase in consideration.
91% rise in product interest, and 30% new site visits.
42% more Google Cloud searches, with a positive impact on pipeline.
If you are interested in viewing more content marketing examples and how some of the large brands are approaching their content marketing strategy. Consider visiting our stories section for more brands. Here is a list of brands that we have featured so far:
Conclusion
As the world gets noisier, we are certain that more brands will consider content marketing to differentiate their brand from the herd. Great content marketing is really about authentically telling stories.
If you are working for a brand that is just starting off with content marketing or scaling content marketing efforts for an established brand. We have content marketing resources that will set you up to succeed. Please check the resources section to download templates and checklists.