It's nearly impossible to fathom the depth of baby care market which makes it difficult to figure out where does one start from. India is at a cusp of what could possibly be the best time that the segment has ever seen. India has around 20% of the baby population of the world. Projected to have 135 million babies in the age group of 0-4 years by 2020 and adding close to 26 million babies a year. Baby care market in India is expected to be about $ 31 billion by 2020.
Research for baby products starts much before the baby is born and expecting couples rely on the internet for research. Possibly the first brand that an expecting parent encounters is a hospital which then becomes the epicentre for other brands to reach them. Generally, the first one to approach you would be a cord cell banking provider which is a relatively new area at least in India.
An expecting mother visits a hospital at least 10 -15 times before actual delivery. The average delivery costs in India are relatively lower at $ 650 while US is the most expensive at $ 9,000. The rising middle-class consumer base and increasing disposable income are going to propel the average spending per child to 14,000 rupees per child by 2020.
Baby care market in India is largely dominated by three key players. Nestle in Baby Food & Formula, Johnson & Johnson in overall market share and Kimberly Clark (Huggies) in diaper market. A multitude of categories within the baby care segments means that the marketers can't use the same mediums for all products.
Research from Google suggests that nearly 70% of mums use the internet to gather information about baby & child care products and nearly half of the respondents take an average of 3-4 days before they make the actual purchase.
No wonder that Johnson & Johnson with its massive marketing spends of $ 2.5 billion decided last year to allocate 40% of its budget on online initiatives. Johnson's Baby is a global initiative from Johnsons & Johnsons to reach out to expecting couples and parents. The brand has several tie-ups in India with leading parenting sites like Indus Parents, Baby Chakra and guessing from its 11 million fan base the content seems to be resonating well with its audience. J&J also has done some really good homework to reach out to expecting couples, in fact, Adage did a very exhaustive article on how they are taking the brand on digital in China here.
Nestle has Start Healthy Stay Healthy initiative that it uses to educate couples/parents to transition from pregnancy to toddlerhood. The content also seems to be well crafted in fact the brand is celebrating breastfeeding week with this really well-crafted video seen below this month. Other brands which have done really well on social media include Himalaya Baby Care, Chicco India and Pampers to mention a few.
The other aspect of Digital is baby e-commerce which is a 120 crore market in India as per industry estimates. With India expected to have around 730 million users by 2020, the number certainly seems to be a lot short of what it really can be. Every key player in the baby care segment has its own e-store and has presence on leading e-commerce sites like Amazon, First Cry, Baby Oye and the likes.
We have left out few segments including baby toys, baby apparels, baby furntiure, baby products and our personal favourite baby detergent from this discussion. All the segments mentioned also have some really interesting work happening both on digital and e-commerce front. We have tried to create a short snapshot of what the baby care market looks like if we take the major categories into account in the below infographic.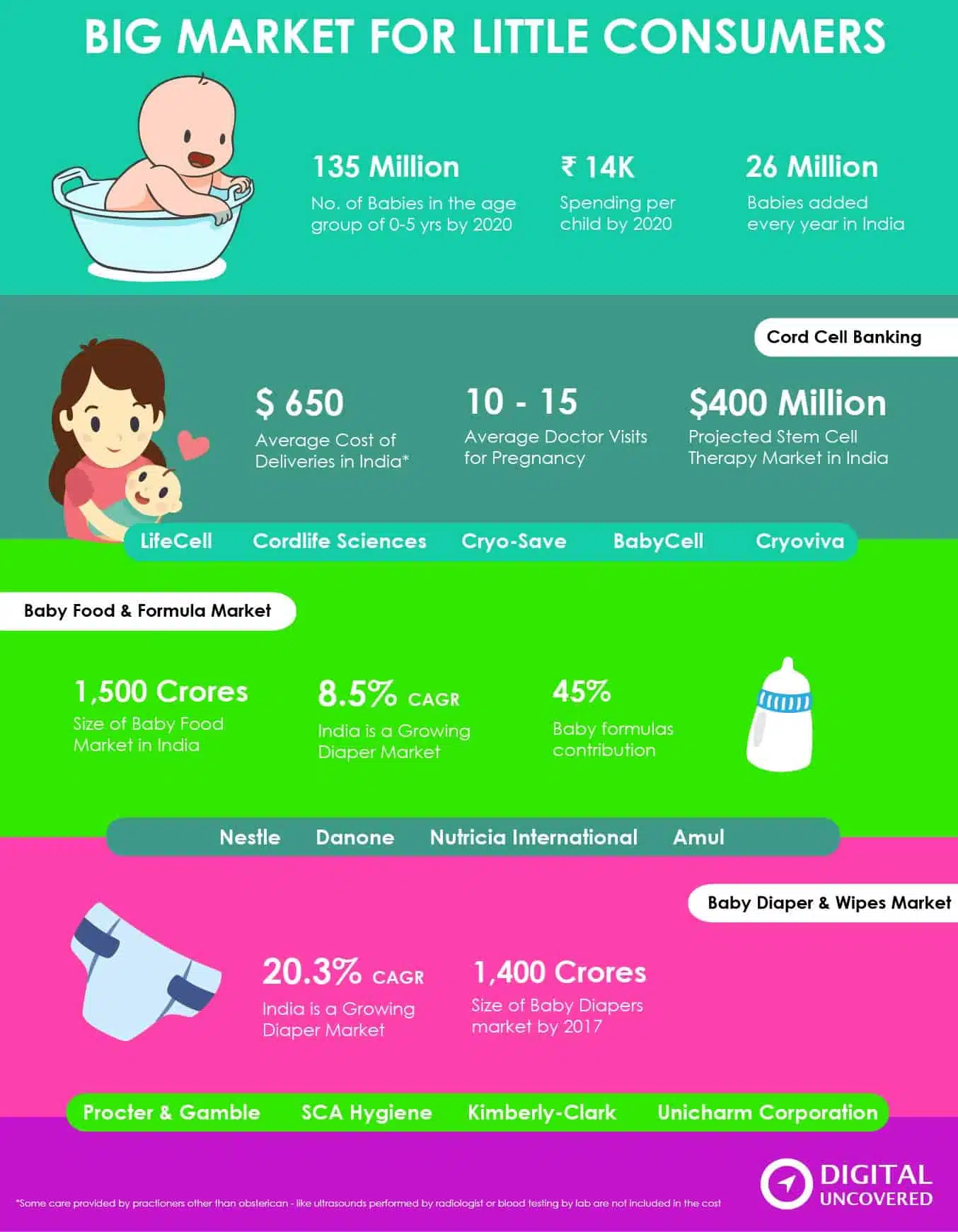 If you want to read more about baby care market in India. Check the below articles which we found really valueable to create this article.
Global Baby Care Report by AC Nielsen