As marketers, we have an unlimited number of choices when it comes choosing tools to get our work done. For instance, if you search G2 Crowd for SEO Competitive Intelligence Tools you will have 114 options to choose from and possibly more if you are on Product Hunt.These sites allow you to compare tools, slice and dice features until you find the perfect fit.
Before you choose a tool it's important to understand how you plan to use them. Intelligence, in essence, is always about finding information that helps you to make better decisions. Intelligence saves your precious time whether you are working on your outreach strategy or your content plan.
How to Use SEO Competitive Intelligence Tools
Track Competition
With SEO Competitive Intelligence Tools you can see which keywords your competitors rank for as well, giving you new potential keyword targets. For instance, you can view the top ranking keywords for a website and filter keywords by channels.
perform Ranking Comparison
You can compare your performance with competition to see how many keywords in any given set of websites you website shares rankings for, or hold exclusively.
Discover Keyword Opportunities
Discover new keyword opportunities at the intersection of your own site's rankings with others, or the intersection of multiple sites in your space.
Optimize your keyword list
To optimize your keyword list you can analyze competitors keywords ranks by volume, by ranking position, or by difficulty. This will help you to populate your keyword lists or add to you can add keywords to your existing list right after checking the site's ranking keywords.
Identify Back-Link Gap
How do you identify backlink opportunities that you are missing? Back-link gap analysis is a great way to find which sites back-link to your competition. A back-link gap analysis will enable your team to refine its outreach strategy.
Track Keyword by Root-Domain, Sub-Domain & URL
Viewing keywords by domain, sub-domain, and URL reveals a lot about your competitor's strategy. For instance, if a site has its blog on a sub-domain or sub-category this feature will enable to track all the keywords for which the blog ranks for.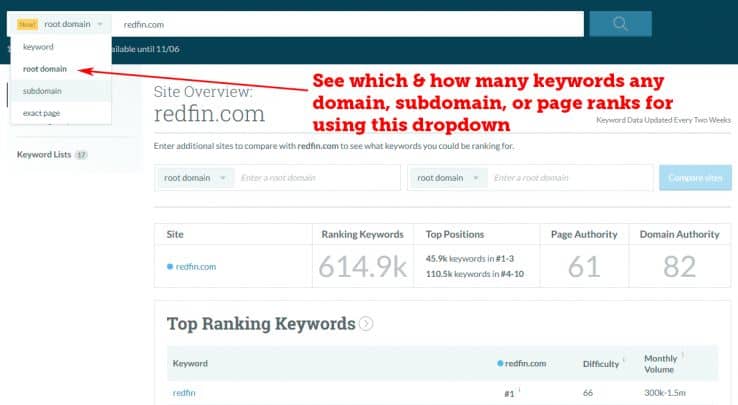 The above list is not exhaustive and you will find more ways to use any tool depending on your goals. So whether it's discovering new keyword opportunities or refining your outreach strategy using competitive intelligence tools is a must. If you know more creative ways of using these tools, do share them in the comments section below.