It was a usual Monday morning in the United States on May 2, 2011. An unplanned presidential address was scheduled at 11.30 PM EST. Twitterverse was speculating the reasons for the unplanned presidential address. Rumor mills were buzzing with news of Gadaffi giving up to death of Osama Bin Laden. Keith Urbahn who was a former chief of staff for former defense secretary, Donald Rumsfeld tweeted from his handle at around 10.24 PM EST.
So I'm told by a reputable person they have killed Osama Bin Laden. Hot damn.
– Keith Urbahn (@keithurbahn) May 2, 2011
Keith's message spread like wildfire within a minute, more than 80 users had already retweeted the message, including New York Times reporter Brian Stelter. Within two minutes, over 300 users reacted to the original post, and it was spreading through the network.
Keith was not the first one to tweet that the address could be related to Osama Bin Laden's death. With less than 1,000 followers not even the smartest machine learning algorithms could have predicted the influence that Keith's message would have on a viral information flow. Right network effects came into play with trust being established as the information was coming from a credible source. Keith's story is one that explains how the news cycle is changing as peoples news consumption behavior has changed.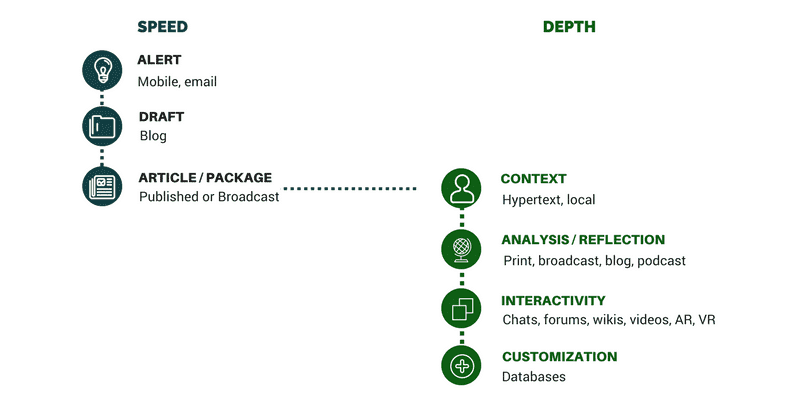 It's time news publications start to reimagine the distribution model in the age of multiplatform journalism. Paul Bradshaw from OJB created the news diamond model which focuses on the strengths of the online medium which is speed and depth. The news diamond model has been modified over the years after being first published in 2007.
The Distributed Journalism model from Paul Bradshaw focuses on building a community and shifts the focus provided solely to the distribution of assets in the news cycle. Paul has explained the model in great detail in his blog post.
News Cycle: Lessons for Content Marketers
News is Social
Positive content is distributed more significantly by users than negative content in a news cycle. Nieman Labs research suggests that how much a tweet will get retweeted is related to the degree to which it expresses positive emotion. A similar study performed by Dalhousie University for Vancouver Winter Olympics also concluded that positive emotion leads to higher shares. In
A similar study performed by Dalhousie University for Vancouver Winter Olympics also concluded that positive emotion leads to higher shares. In the study which covered 46,000 tweets found that positive tweets were retweeted an average of 6.6 times, compared to 2.6 times for negative tweets and 2.2 times for neutral ones.
As a content creator, you should also be aware of the social benefit that people will drive out of your content. Every piece of content that you create has to either full-fill a personal or social outcome for the audience.
Open Draft & Real-time news production
Today news gathering, production and distribution can happen simultaneously in a news cycle. Journalists today use live video to discuss the latest news and to gather feedback from the audience. As news breaks on social media a journalists role changes from providing information to delivering a compelling mix of stories that help them to build a genuine relationship.
"First the tweets come, then the pictures, then the video, and then the wires,"
– Mattew Weaver, The Guardian
Live publishing whether it's blogging, video or a podcast allows you to aggregate data from elsewhere and identify gaps that remain in your story. Live publishing helps in building engagement and makes the audience believe that they are part of the story, unlike other static mediums.
"If journalism is the first draft of history, live blogging is the first draft of journalism."
– Andrew Sparrow, Political Correspondent, The Guardian
The new model for journalism is focused on tapping the potential that the audience can deliver during both pre and post-production of a new news story.
Eco-Chamber Effect & commoditization of news
The news that your audience consumes is increasingly getting affected by the echo-chamber effect. All the social feeds and the recommendations provided by search engines are delivered by sophisticated algorithms that look at your previous search and browsing behavior. Polarizing your views on any given topic.
The Wall Street Journal designed an interactive tool which shows both sides of the spectrum to the viewers. The tool named Red & Blue feed shows both for and opposing viewpoints on any story. The best way to handle echo-chamber effect is to showcase both sides of the argument and to give the audience holistic views of the event. New York Times curates stories to show both sides of the story for the audience. For content marketers publish stories on real-time events, it's important to make sure that you cover both for and opposing arguments for a story or topic.
Distributed Content & Creation
In the age of multi-platform journalism, content shouldn't be platform dependent. At the Financial Times and Sky, content is managed in a structured XML format to provide them the flexibility to publishing quickly irrespective of the platform used based on editorial needs. Publishers have also designed their own Content Management System with built-in tagging and API support to enhance the cross-platform and cross-device experience. API's also allow the publisher to
Publishers have also designed their own Content Management System with built-in tagging and API support enhances the cross-platform and cross-device experience. API's also enable the publisher to experiment with users, suppliers and others. Guardian's Politics API, which covers information about politics and elections in the UK was used by external collaborators to create Guardian Data Store a 'voter power index.' The index analyzed the importance of a single vote in a given region, and thus indicated whether voting there would make a difference in altering the political power.
API's also allow for a distributed content strategy. Buzzfeed uses the distributed content model where more than 80% of Buzzfeed's reach exists outside its website. Similarly, creation can also be opened up for external collaborators, for instance, Huffington Post's Blogger Platform has several contributors with over 6,000 posts published reaching over 20 million readers.
Speed Vs. Depth
A survey conducted by American Press Institute in 2014 found that 41% Americans mentioned that they watched, read, or heard any in-depth news stories, beyond the headlines.
A news organization needs to focus both on the speed and depth of how a story is covered in the news cycle. For any organization using content to market itself has to focus on the depth of the story covered. The depth of coverage or story will bring more visitors to your content as it offers your unique perspective and provides the audience with a holistic view.