Micheal Porter in his 1996 Classic wrote: "The essence of strategy is choosing what not to do." Content Marketers need a framework that articulates your purpose and goals while building a content strategy.
Content Marketing Framework help you define the core elements you would need to design a successful and scalable content marketing operations. Every brand has the flexibility of defining its framework. We have covered the most popular content marketing frameworks that you can leverage while designing your content strategy.
CMI Content Marketing Framework
Content Marketing Framework from Content Marketing Institute has five core elements:
Purpose & Goals: Why are you creating content and what value will it provide
Audience: Who are you creating content for, and how will they benefit
Story: What specific, unique, and valuable ideas you will build your content assets around
Process: How you will structure and manage your operations in order to activate your plans
Measurement: How you will gauge performance and continually optimize your efforts
Tofu-Mofu-Bofu Framework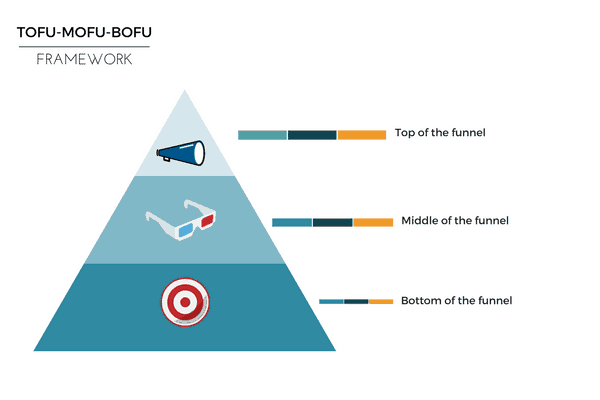 Tofu-Mofu-Bofu is a framework that develops content based on your conversion funnel. Most brands simply ignore at least one part of the funnel. With this framework, content marketers can ensure that they are reaching out to every segment.
Tofu: Building awareness about your brand / the problems you address
Mofu: Educating people on how to choose a solution
Bofu: Explaining why your product is the best solution
This framework requires you to develop customer personas which will enable you to identify which stage of the funnel the customer is at currently. Hubspot is a brand that effectively leverages the Tofu-Mofu-Bofu framework.
Hedgehog Concept
Jim Collins was the first to mention the hedgehog concept in his book 'Good to Great: Why Some Companies Make the Leap… And Others Don't'. The concept is based on a fragment of verse by the Greek poet Archilochus which says "The fox knows many things, but the hedgehog knows one big thing."
A Fox tries to catch a hedgehog using a variety of techniques including sneak, pounce, race and even playing dead at times. While the hedgehog only does one thing well which is to defend itself. According to hedgehog concept, companies are more likely to succeed if they only focus one main goal.
This one primary goal is achieved at the intersection of the overlapping circle:
Your passion
What you're best at
What makes you money
Groove is an example of a brand that uses the Hedgehog concept for content marketing.
Hero-Hub-Help Framework
Hero-Hub-Help framework enables you to structure your content.
Hero Content: Orginal and insightful content that is ten times more valuable compared to anything else that's available on the web for the visitor
Hub Content: Episodic content to keep your subscribers/followers engaged on a weekly basis. Hub fuses both hub and help content.
Help Content: Answer frequently asked questions by customers and prospects.
Moz leverages the hero-hub-help model to created content.
Spaghetti Framework
Spaghetti framework allows to throw stuff at the wall and see what works. The framework works on two approaches.
Approach One: Create content around anything & everything
This approach about finding the right mix for the Spaghetti by adding anything that you deem fit. This approach is recommended for beginners who would want to test waters and see what works for them. Buffer used this approach in the beginning and later pivoted to other frameworks after they had a deeper understanding of what content worked for them
Approach Two: Themes to guide Spaghetti throwing
Rather than adding random items to your Spaghetti, you use a more focused approach by deciding on themes. instance a healthcare brand will only write about sub-topics in nutrition and diet care.
Next Section:  Content Creation