What moves customers to click through e-commerce pages and add items to their cart? What makes them abandon a page and look elsewhere? What contributing factors influence a person's buying decision?
These are the questions you need to ask if you want to see continuous improvement in your conversion rate. These are the questions that will eventually lead you to an improved sales funnel.
What is a Sales Funnel?
To learn the different methods of increasing the conversion rate of your business, it is important to understand what sales funnel stands for.
Basically, a sales funnel is a sequence of steps intended to influence prospects to make a purchase decision. The steps involved could include different business and advertising schemes such as newsletters, emails, social media posts, and the company's website.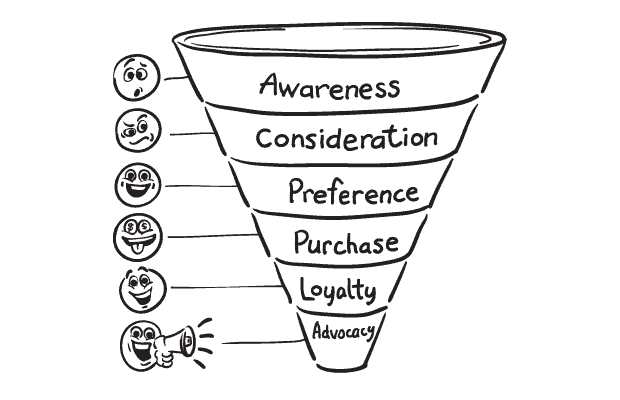 ---
Here are the 10 ways to increase your sales funnel conversion rate:
Find Your Target Market.
Finding one's target market sounds simple, yet it is often overlooked by many business owners. You need to zero in on your market first before you can take out your special marketing cards that will floor your prospects.
You can do this by:
Blogging
Being active on social media
PPC (Pay-per-Click) campaigns
Traditional Advertising such as direct mails, print ads, live events, and radio and TV commercials
Engage Your Audience.
Stirring interest in people to click on your website is one thing; to make them stay there, read your content, and click through the pages is another.
You can capture the interest of your target market by:
Improving website navigation in desktop and mobile gadgets
Providing clear calls to action
Providing a comments section, contact form, and an option for customers to receive your newsletter
Educate Your Prospects.
After finding your target market and holding their interest, what do you want them to know next? Let your customers know why your business is worthy of their attention. Prospects who are interested will have questions about specific products or your company.
Have the patience, time, and resources to provide complete answers promptly.
Here's how to do it:
Hire a virtual assistant to handle customer queries through email, social media, or other points of contact
Send out automated emails to prospects who subscribe, abandon their shopping carts, or leave comments if you cannot answer soon
Improve your web content through a FAQ page and an informative product photo caption or product description
Provide contact details or an About Us page in your social channels or blog
Dole Out Freebies.
Don't be afraid to dole out samples or freebies. Let your prospects have their first experience of your products. Freebies can also come as tokens of appreciation to loyal or repeat customers, holiday greetings, and referral giveaways.
Improve Personal Interaction.
According to a Customer Experience Impact report in 2011, 89% of consumers stopped buying from a brand when they experience poor customer service.
Regardless of your sleek website or innovative products, poor customer service will still turn people away. Remember that customers who have unsatisfactory interaction with a business are likely to tell their friends about their experience. Make sure that the word-of-mouth your business is getting is the kind that will bring customers in, not turn them away.
Value Customer Loyalty.
How well do you treat customers who have supported your business for a long time? Are your existing customers also advocates of your brand? There is a difference between a mere buyer and a customer who actively supports your business. The latter is a powerful marketer who influences their friends to use your products.
Do not be too engrossed with catching new customers that you forget the ones you already have. Show existing customers you value them through a rewards system and offers exclusively designed for long-standing subscribers.
Develop In-Store Search.
Does your website help visitors get around and shop? Do customers get frustrated or encouraged when they browse your products?
Here are a few ways to improve in-store search:
Display the Search function prominently
Test keywords in your search option
Provide auto-suggestions
Run the test function in mobile devices
Improve Your Website Content.
Put yourself in your prospect's shoes. Upon visiting your website for the first time, does the content make you want to read more and find out about the business? Do you have to repeat some sentences to understand what you're reading?
It is only sensible to continuously work on your SEO (search engine optimization) to improve your website ranking in Google. Just don't do this in a way that will make the overall quality of your content suffer. Design your content in such a way that customers would feel like they are interacting with a person who is genuinely interested in helping them.
Build Credibility.
People are wary of websites that spring up ads and shove offers. Customers are also hesitant to buy from a website that shows inconsistency. If you want customers to support your business, you must gain their trust.
Here's how to show customers you are a credible company:
Update your website
Provide contact details such as a physical address, phone number, email address, and links to social channels
Display customer testimonials, references, and feedback
Avoid grammatical errors and spelling mistakes
Reduce, If Not Eliminate, Distractions.
Pop-up ads and automatically playing video and audio clips – these things, though intended to attract customers, only distract them from getting to know your business.
Steer clear of irrelevant images, unnecessary links, and pop-ups. The less distracted customers are when they're on your website, the better chance you have of scoring a sale.
The rate of success of a sales funnel can be measured in its ability to turn a visitor into an advocate. Practice these 10 ways to increase your sales funnel conversion rate and you can double your revenues in no time.